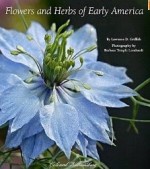 Growing out of research at Colonial Williamsburg, curator Lawrence's Griffiths book, Flowers and Herbs of Early America, provides the historical background on fifty eight species of plants that were available to the early colonists. The author draws on archival research as well as his own field trials to understand how the plants were cultivated and used. The result is a book rich in information for anyone interested in horticulture or the history of plants and gardening.
After describing his method of investigation, Griffith discusses the historical sources upon which his work rests, giving a firm foundation for all that is to come. He then proceeds to the heart of the book, the description of the individual plants. The choice of flowers and herbs was based on their success growing in the field, their worthiness in a garden setting, and whether they were amenable to photography. This last criterion was important because the illustrations are an important component of the book.
Each entry provides both cultural and historical information along with a period illustration from an herbal or florilegium (flower book) and modern photographs by Barbara Lombardi, staff photographer of the Colonial Williamsburg Foundation. The historical information on each plant includes a huge variety of informative and fascinating facts little known to most gardeners. For example, two thousand years ago the ancient Romans knew that lupines fixed nitrogen and recommended planting them to enrich the soil. But Griffith is always cognizant of the desire of many gardeners to incorporate these heirloom plants in their gardens and he also gives suggestions for growing them and combining them with other old-fashioned plants. Thus, he notes that the fiery orange red of Maltese cross (Lychnis chaledonica) is difficult to fit into the garden and recommends planting it with blue speedwell (Veronica officinalis), or blue ageratum. Companions for our native purple coneflower include blue lobelia, joe-pye weed, and swamp milkweed. Griffith's experience growing each kind of plant is detailed and the essential information for growing each kind of plant is given in highlighted insets complete with height, size, habit, and light requirements.
If you are interested in heirloom plants and growing them in your garden the information in Griffith's book is a great place to begin. The depth of his knowledge and enthusiasm for his subject are awesome and provide a stimulus to both the intellectual and practical concerns of gardening. The period pictures combined with the modern photographs provide contrasting perspectives of the plants which further enhances the enjoyment of the book.
To buy Flowers and Herbs of Early America (Colonial Williamsburg Foundation) from Amazon.com click here.