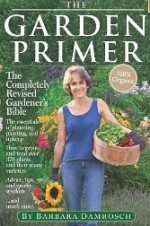 Barbara Damrosch's Garden Primer is a comprehensive guide to gardening that give you the basics as well as information on specific plants. Damrosch points out in her introduction that the aim of the book "is to answer as many fundamental questions about gardening as possible" and she certainly does a good job of meeting that goal. If you are new to gardening you will find a plethora of information that will get you started and keep you going for many years.
The first four chapters are devoted to general information about gardening. The first chapter, What Plants Need, includes material on soil, composting, light and types of shade, watering, starting seeds, and weed and pest problems. The second chapter outlines the steps involved in planning a garden while the third and fourth chapters deals with gardening gear such as tools, and buying plants. Buying plants is simplified and made more successful by knowing how to interpret botanical names, where to go to purchase plants, and what to look for when picking out individual plants. Damrosch lays out all this information in a clear, straight forward, logical fashion that inspires confidence.
The bulk of the book is devoted to the plants themselves, organized in groups: annuals, perennials, vegetables, herbs, fruits, bulbs, roses, lawns, ground covers, vines, shrubs, trees, wildflowers, and houseplants. Each chapter opens with general considerations regarding the entire group and proceeds to more specific information. The chapter on annuals, for example, discusses the nature of annuals as well as designing with them and providing for their basic needs. Descriptions and cultural requirements are then given for 33 annuals that are popular, easy to grow, and readily available from local garden centers or mail order suppliers.
If you don't know how to prune shrubs and trees, no worry, pruning techniques are included. Likewise, topics such as crop rotation in the vegetable garden, choosing the right kind of grass for your lawn, and a plan for an herb garden are also included. All through the book inserts provide interesting material on a wide variety of topics such as tips for cut flowers, moving annuals indoors, and forcing bulbs. Lists are given for perennials that like dry sites, heirloom vegetables, and historical apples.
No gardening book can solve the problems of all gardeners and Damrosch doesn't claim to do so. She is a self proclaimed "old-fashioned dirt gardener" who is sharing her vast knowledge in a down to earth way. She makes recommendations that are starting points for experimentation, recognizing that the more exact information she gives, the less likely it is to apply the specific conditions of any given gardener. The organization of the book, easy style of writing, and vast amount of information contained in the book make it an excellent resource for gardeners throughout the country.
If you would like to buy The Garden Primer: Second Edition from Amazon.com click here.