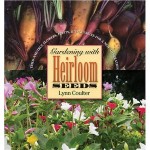 Viewing heirloom seeds as living antiques, Lynn Coulter provides readers with historical background and cultural information on fifty heirloom plants that can be propagated from seed. The author considers vegetables as well as perennial and annual flowering plants so that gardeners have a large number of plants from which to choose when considering heirlooms for their garden. Readers are introduced to reddish orange Turkish eggplants as well as mignonettes, the darlings of Empress Josephine, brought back as seeds from Egypt by hubby Napoleon, and more. 
In her introduction, Coulter sets out her definition of "heirloom seed"; she notes that the age requirement is arguable ranging from about 50 to 100 years old, and is flexible even within those limits. She goes on to explain that heirloom plants are open pollinated and have adapted well to the climate and soil where they have been introduced . More important to Coulter, however, is the story behind heirloom plants, and these stories are what give the book its unique character and focus.
The text is divided into four sections by season. Each section considers the vegetables as well as the ornamental annuals and perennials that are in their glory during that season. Arranged alphabetically, the heirloom species are described along with cultivars and varieties that make good garden plants. Coulter has lots of folklore and facts to pass a long about these wonderful old-fashioned plants adding up to a text that makes fascinating as well as informative reading. You can learn, for example, that the blue cornflower 'Emperor William' was so named because the emperor found refuge in a field of cornflowers as a boy when pursued by Napoleon's troops. Or moving to the more unusual story, you might be intrigued by the fact that Aztec priests made idols from amaranthus and honey which they ate and encouraged their followers to eat explaining that the stems and crimson flowers were the body and blood of the gods.
Mindful of the gardener who wants to include some heirloom plants in their garden, Coulter provides growing guidelines for each species, including tips on seed collection. Gardeners that like cosmos, for example, should realize that the plants don't set flowers until days grow short in the fall so may be killed by frost in cold climates before they bloom. Of course, if you buy the Sensation series you can avoid this problem, suggests Coulter. If you are considering saving spinach seeds you might be interested to know that seeds can remain viable for 3-5 years under the right conditions but that the seeds of some spinach varieties are spiny and prickly and should be handled with gloves.
Coulter provides a wealth of information for the gardener as well as the plant lover. The book is a good read even if you never put a foot in the garden and you can enjoy the stories just as well as you gaze at a bouquet of sweet peas or taste the sweet juicy flesh of round Lemon cucumbers. Numerous photographs of vegetables and flowers plus illustrations from old seed catalog and newer seed packets add to the interest and enjoyment of the book. This is a valuable source for gardeners wanting to include heirloom plants in their gardens and will provide guidance and enjoyment for years to come.
To buy Gardening with Heirloom Seeds: Tried-and-True Flowers, Fruits, and Vegetables for a New Generation from Amazon.com click here.