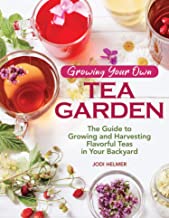 Author, Jodi Helmer, provides an introduction to raising your own tea in her book, Growing Your Own Tea Garden. She gives practical information on planning, planting cultivating, harvesting, drying, storing, and brewing the tea plus recipes aimed to fill various needs and wants. Also included are garden designs chosen to meet various health issues and tastes.
After a brief introduction to the history of tea, Helmer turns to the problem of choosing the plants for a garden. The diversity of plants is great and includes the most common tea plant, Camellia sinensis, that is native to China but can be grown in USDA hardiness zones 7-9. Details are given for harvesting and processing white, green, black, and oolong tea from C. sinensis for those that fancy classic tea. The following pages describe 58 other plants that can be used to make tea. Each entry covers at least one full page and includes a photograph, hardiness zones, cultivation needs, directions for the best brew, and interesting facts about the plant and it health benefits. She considers a wide range of plants and divides them into categories based on the part of the plant that is used for tea: leaves, flowers, fruits, and roots. Well known entries include chamomile, peppermint, and lemon balm, some of the novel/surprising ones are cilantro, chickweed, yaupon holly (only plant native to North America that contains caffeine), milk thistle, English Hawthorn, and staghorn sumac.
In the chapter on garden designs the author presents 9 different designs each with a different theme. She includes lavender, fennel, hibiscus and parsley in her garden to cure a hangover, and purple passionflower, spearmint, trumpet honeysuckle and echinacea in another garden to boost the immune system. Other themes are tummy troubles, sleepytime, fatigue-fighting, relaxing, headache, and lots of lemon. In case you have no sun in your garden, Helmer suggests a shade tea garden of lemon verbena, bee balm, stevia, and applemint. Each design includes a layout for the garden with the number of plants needed.
The final chapter presents 12 recipes for herbal brews. Consider calendula sun tea that uses fresh calendula flowers and the old-fashioned process for brewing tea or if you need a good night's sleep you can try the sleepytime tea with its lemon balm, peppermint, rose petals, lavender, and fennel seed. Each recipe is for 3-4 servings, includes the amount of each ingredient, and directions for brewing and serving the tea.
Growing Your Own Tea Garden gives good overview of the process and stirs the imagination for making and drinking tea. Supplementary material on growing the plants would greatly aid success as information on cultivation is a bit light. Even if you never brew a single cup of tea, the book is a good read.
To buy Growing Your Own Tea Garden from Amazon, click here.