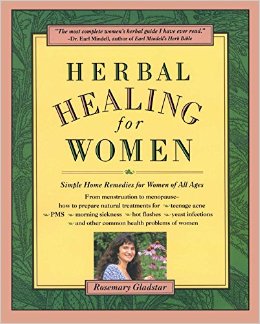 As more and more medicines come on the market and are advertised on TV with all their warnings, many women are going back to home remedies that employ herbs as well as sound nutritional and exercise regimes. Rosemary Gladstar's book, Herbal Healing for Women, provides valuable advice for exploring this way of dealing with health issues. It focuses on the problems unique to women from childhood through old age.
After introducing the study of herbalism the author describes in general terms the ways herbs are used and how to prepare them. Included are teas, oils, salves, ointments, pills, capsules, syrups, tinctures, and liniments. Gladstar gives recipes and directions for examples in each category, and explains the advantages of each type of preparation.
The major portion of the book is devoted the problems that women face at different times of their life. The part devoted to young women include sections on such problems as the raging hormones of adolescence, menstrual discomfort and, acne and skin issues. The next part on women of the childbearing years includes a discussion of topics such as vaginal infections, fibroids, ovarian cysts, and fertility. In the next part devoted to childbearing suggestions are given for a healthy preganancy as well as dealing with postpartum issues. Finally, the part on menopause focuses on healthy diet and exercise with herbal preparations that enhance health and addresses problems such as vaginal dryness, osteoporousus, and hotflashes. A final part called Material Medica for Women, describes the herbs that are used frequently in the other parts of the book and five appendices provide information on topics ranging from lists of resources to creating a personal health profile.
Rosemary Gladstar offers a whole lot more than herbal remedies in this book. She also has a unique and calming attitude about women and their changing roles in life that make her herbal advice more helpful and valuable. The net result is a reading experience that works on an intellectual level as well as an emotional one to the great benefit of the reader.
https://www.amazon.com/dp/0671767674//ref=as_li_ss_tl?&hvadid=4967890873&hvqmt=b&hvbmt=bb&hvdev=c&ref=pd_sl_2vz4nlf7ar_b&linkCode=ll1&tag=karensgardentips-20&linkId=0b8d902120ff939d8773ad890d0cc74a