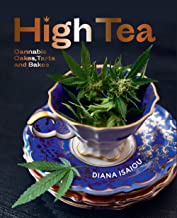 If the title, High Tea, conjures up ladies enjoying scones and finger sandwiches accompanied by Earl Grey tea you will be surprised by Diana Isaiou's book. As a food stylist and consulting chef, Isaiou is founder of a cannabis bakery in Washington, and her book provides recipes for cannabis baked goods that are appropriate for a British style afternoon tea. Introductory sections explain such basics as dosing and extraction recipes while the bulk of the book presents 45 recipes for sweets from candy to cake.
The recipes are divided into 5 groups: cookies, tarts and turnovers, small bakes, centerpiece cakes, and candies. Each recipe covers at least 2 pages and includes a brief introduction with baking tips, servings, strength of THC in final product, list of ingredients, step by step directions in paragraph style, and a full page photograph of the completed dish. Especially appealing entries include chocolate malt torte, lemon posset, and layered lamingtons. And yes, there is a dark chocolate brownie recipe that is enticing! Just in case you want to add cannabis after baking, Isaiou includes a recipe for Green Dragon concentrated tincture that can be sprayed or brushed onto just about any edible.
High Tea contains many tasty bake sweets suitable for afternoon tea but no tea sandwiches or savories. Too bad, but astute cannabis foodies could easy spray Green Dragon on any food they wanted to add to the menu. The recipes are clearly written but are in small white type on top of photographs that may be dark or light so are sometimes difficult to read. As a non-cannabis baker, I found some of the information about dosing difficult to understand and my one fear would be overdosing some of the guests at my tea party.
To buy High Tea from Amazon, click here.