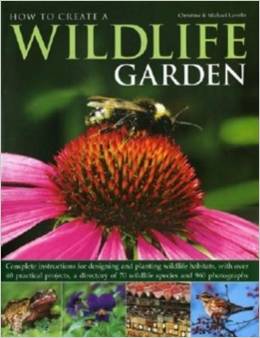 The "back to nature" trend has made gardeners more aware of the role of wildlife in the garden and increased their desire to live in harmony. How to Create a Wildlife Garden by Christine and Michael Lavelle, aims "to show how gardeners and wildlife can share the same space without conflict and to mutual benefit" and contains background information and instructions for designing and planting wildlife habitats. The dwindling numbers of beneficial animals can be reversed by gardens, both small and large, and this book shows you how.
After outlining the principles of wildlife gardening and showing how they work with the natural cycles of nature, the authors discuss the steps involved in designing a wildlife garden and show how basic design principles can be used in a variety of garden sizes and settings. Major habitats are described and ideas for helping specific species are outlined. A directory of animals gives notes on recognition, how to attract them to the garden, and their habitat needs. A plant directory describes over two hundred plants including information on their origin, cultivation, uses, and wildlife benefits.
The focus of the book is providing habitats for bees, butterflies, and birds with less emphasis on other beneficial insects and animals. Problems with deer and rabbits are virtually ignored so if you want to live in harmony with them this book is not going to help. Rats are not mentioned at all and mice are mentioned only as suitable food for predators. A better title for the book would be How to Create a Garden for Birds, Bees, Butterflies, and Other Beneficial Insects.
To buy How to Create a Wildlife Garden from Amazon.com click here.