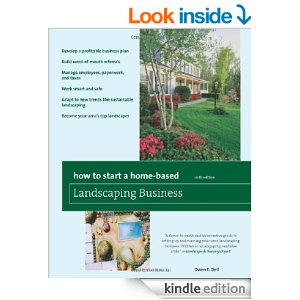 If you have ever considered starting your own landscape business Owen E. Dell's book, H ow to Start a Home-Based Landscape Business, is a good place to start. Read it through quickly before you begin to get an idea of what is involved and then if you decide to proceed keep it by your side for thorough reading as a guide through the whole process. The practical advice and step by step methods are easy to understand and cover all the skills and strategies you need to start and run a home-based landscape business.
Dell, a licensed landscape architect and landscape contractor based in Santa Barbara, California, shares his experience of thirty-nine years in the business. He presents a comprehensive guide that includes suggestions for writing a business plan, keeping records, finding and keeping good employees, attracting and retaining clients, bidding on jobs, and staying profitable. Special sections outline the business possibilities in sustainable landscaping and gardening, and the use of the Internet for marketing and as a everyday problem solving tool.
This is not a book about landscaping and gardening and will not tell you anything about designing a garden, planting shrubs, or harvesting vegetables. Instead, it deals with the down to earth aspects of setting up and running a business. The text includes many forms such as worksheets for a business plan, material and labor records, cost, and bidding. Armed with advice as well as the tools for success provided by this book, a new entrepreneur can enter the business well prepared and ready to take on new challenges as they appear.
To buy How to Start a Home-Based Landscaping Business from Amazon.com click here.