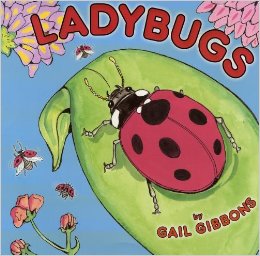 One of the first insects a child is likely to enjoy is a ladybug. With its bright red color and black spots the common ladybug is appealing and makes a good introduction to the world of insects. Gail Gibbon's book, Ladybugs, is full of information on this winsome insect and is an excellent introduction to all aspects of its life.
Written for children from kindergarten to second grade, the book details many aspects of the ladybug's life. Gibbons lets us know quickly that a ladybug is actually a beetle and proceeds to show us eleven different kinds of ladybugs including ones that are black, yellow, or have no spots. The author describes the ladybug's body parts, life cycle, and daily life and we learn how ladybugs protect themselves from predators and the chill of winter. Several pages are devoted to way ladybugs help the farmer and their role in organic farming is highlighted. A page at the end of the book gives more interesting facts for the curious; did you know and their wings beat eighty-five times per second and they can fly up to fifteen miles an hour?
Full of facts? Yes, it is. The presentation is done in a simple easy style that can be used in various ways to meet the interest level of any child. With its detailed bright colored illustrations the book can be used as picture book with information added as needed. Each page has text at the bottom but is also filled with lots more information written by the individual figures on the page. One child might be satisfied with the identification of the ladybug's major body parts described in the text while another might want to know about the sticky pads of hair on the end of the feet, or that male ladybugs are smaller than their mates, all detailed in accompanying pictures. The information is there if you want it but can be skipped until another time.
Gibbons has a gift for picking out interesting information about her subject matter and presenting it in a way that appeals to both children and adults. Her watercolor illustrations are captivating and generate interest while bringing the subject matter to life. I strongly recommend Ladybugs as a wonderful way of bring the natural world to young children.