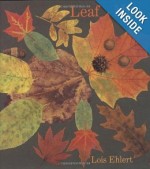 If you want a book that will stimulate imagination and creativity, Lois Ehlert's book, Leaf Man, is a great choice. This is the kind of book that encourages the reader to go beyond the written page and leap into activity as the last page is read. It pushes the mind to see limitless possibilities in ordinary things, in this case leaves, and encourages the reader to go in search of more.
The story is simple: leaf man, made from an assemblage of fall leaves, is blown over fields, meadows, orchards, marshes, rivers, lakes, and mountains. In each place there are all sorts of animals, vegetables, fruits; from cows and butterflies, to squash, and cabbages. All, of course, are formed of leaves. Leaf man has no choice in where he goes or where he will land; only the wind knows.
Ehlert's own creativity in this book is mind-boggling. Every two page spread is filled with figures made from leaves. Some she identifies, others she does not, instead leaving the readers to discover for themselves. Some of my favorites are the caterpillars in the meadow, and the mouse hiding in the squash patch and the turtle in the lake. To add a special note, the tops of most of the pages have been dye cut to create a different landscape every time a page is turned; a unique and pleasing touch.
A note is included by Ehlert that explains how she created the many leaf figures included in the book. She collected real leaves from across the United States, color-copied them, and then used the copies to assemble the figures. The result is a visual treat that can't help but stimulates the minds of young and old to try making some leaf figures of their own.  For the expert or readers wanting more information, Ehlert includes four pages of leaf pictures with identifying captions.
To buy Leaf Man from Amazon.com click here.