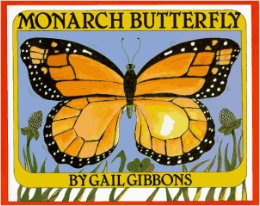 When butterflies grace the garden they always are welcome and stimulate the minds of young children. Do the children realize where they came from? If not, read this wonderful book, Monarch Butterfly by Gail Gibbons that teaches about the life cycle of butterflies, and monarchs in particular. A non-fiction book written for children in grades 2-4, it present the material accurately and in an interesting way with enough detail to stimulate the mind but not overwhelm it.
The many states in the life cycle of a monarch butterfly are covered beginning with the laying of an egg on a leaf of a milkweed plant. The author notes that the egg is sticky so that neither wind nor rain can dislodge it and goes on to describe the emergence of the larva and how it eats the shell of the egg first and then the milkweed leaf. With a series of five pictures Gibbons shows how the larva eats and molts, a process that culminates in the formation of a chrysalis. The text continues with the changes that occur in the chrysalis over a two week period as the larva develops into a butterfly and the depiction and narration of the emergence of the adult butterfly from the chrysalis. We learn that the wings are first tiny and stuck together but expand as fluid from the abdomen is pumped into them and must dry and harden which takes a few hours. A full page detailed illustration of a monarch butterfly introduces the anatomy of the insect including antenna, proboscis, thorax, abdomen, and scales on the wings. The book continues with the migration of monarchs for the winter and how people on the migration route celebrate their appearance. Directions for raising a monarch and a fact sheet on monarchs conclude the work.
The colorful illustrations are lively and bring excitement and anticipation to the text. Many are labeled and all are united by a common yellow border a blue background, and yellow to orange details. Gibbons has artfully married the text and the illustrations to produce a fine introduction to the life cycle of butterflies in general, and monarch in particular.