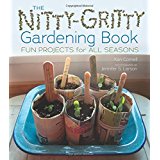 Introducing young children to gardening lies deep in the heart of most gardeners who want to share their passion and continue the gardening tradition. Kari Cornell's book, The Nitty-Gritty Gardening Book provides simple, engaging ways to interest kids in gardening that set them up for success. Suggested for children ages eight to eleven in grades three to six, this book is most appropriate for the parents of young children who want to participate in gardening activities with them.

After introducing children to gardening basics including the use of the plant hardiness zone map, , tools and supplies, soil, and light, the author presents gardening projects by season. Some projects are for a traditional outdoor garden while others are for restricted spaces such as patios or windows. Projects include growing potatoes in a sac, forcing daffodils, and growing a mini salad. Each project have a list of materials and step by step directions accompanied by drawings of key steps and photographs of children carrying out the projects. Insets give additional information on topics such as the use of native plants, drawing a sun map, and what to feed (and not feed) worms in a compost bin. My favorite project is making a birdbath out of a six inch pot and its watering tray. So simple and easy, and a charming addition to the garden! The book ends with a glossary, and  lists of gardening resources and places to find supplies.
The Nitty Gritty Gardening Book present well thought out projects for young children that can be successfully completed without a lot of expertise or big expenditure. The projects are not unique but are inviting and well explained. Good resource for bringing young children into the world of gardening.
To buy The Nitty-Gritty Gardening Book from Amazon.com Click Here.