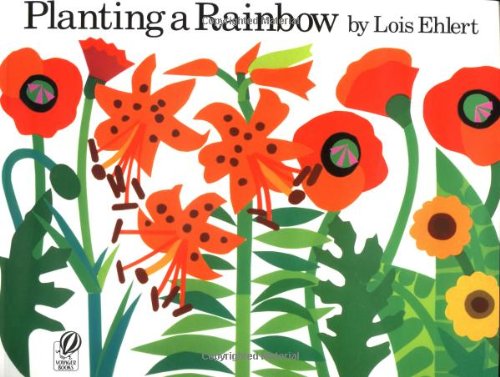 As an introduction to gardening Lois Ehlert's book, Planting a Rainbow, is hard to beat. It is written for children as young as three and begins with the statement "Every year Mom and I plant a rainbow". From there the book follows the activities that go along with having a flower garden. As a bonus, the book is good for teaching colors too.
The gardening year starts in the fall with the planting of bulbs and continues into winter with the ordering of seeds from catalogs. The different kinds of bulbs are depicted at different levels under the ground, and brightly colored seed packets are shown of common flowers. Spring brings the sprouting and blooming of bulbs, sowing of seeds, and a trip to the local garden center to select seedlings. In summer the pleasure of watching plants grow culminates in a mass of colorful flowers shown on pages of different widths, organized by colors: poppies, marigolds, delphiniums, ferns, morning glories, phlox, and more. At the end of the book we are left with the wonderful thought that next year a rainbow garden can be planted again.
The entire text is only nine sentences but they say a lot. The illustrations say even more; every bulb, seed packet, plant, and flower is labeled and shown in sufficient detail that it is clearly recognizable. Ehlert uses paper cut-out shapes and flat vibrant colors that show the great appeal of the plants and flowers. The artistic execution of the illustration adds greatly to the book and reflects the beauty of a real garden for the reader to enjoy.
To buy Planting a Rainbow from Amazon.com click here.