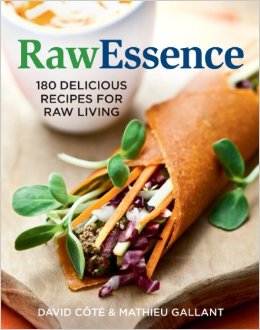 With increasing health awareness many people are turning to diets that focus on vegetables, sometimes excluding animal products entirely. RawEssence goes one step further and features recipes for foods consisting only of uncooked plant products that the authors call "living foods".  Authors David Cote and Mathieu Gallant are chefs and co-founders of Crudessence a company with such enterprises as restaurants, catering, food preparation schools, a kombucha brewery, and on-line food shop. The food in all enterprises is raw, vegan, and organic.
The book begins by explaining the philosophy of the authors in regard to food followed by directions for the basic techniques used in the preparation of raw food. One hundred and eighty recipes follow, divided by type such as beverages, appetizers, soups, salads, main dishes, and deserts. Recipes involving fermentation and dehydration are also included.  All recipes are gluten- and lactose-free. Yes, there are dishes everyone will recognize like ravioli but this one is made with beets instead of pasta. Ricotta cheese is made with macadamia nuts, mayonnaise with cashew nuts, and crepes with Brazil nuts and bananas. Zucchini replaces pasta in several recipes, avocado plays an important role in Island Lime Pie, and flax seed substitutes for flour in onion bread. Variation in texture and flavor combinations are unique.
Every recipe is clearly written with detailed instructions to help the beginner and is accompanied by a color photograph of the finished product . The presentation of the foods is beautiful and has great eye appeal. The variety of recipes is extensive enough to keep a person going for a long time. Many of the ingredients are easy to find, others less common, at least to me, an omnivore. Even if you still like meat, cheese, and eggs, there is something to learn from this book and get you thinking more about a healthy diet. The recipes offer a new and different way of preparing food which can be an exciting adventure in both food preparation and eating.
To buy RawEssence: 180 Delicious Recipes for Raw Living from Amazon.com click here.