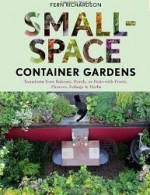 Just because you live in an apartment or condo with no yard doesn't mean you don't get the gradening bug, right? Many people that live in "space-challenged" environments enjoy the beauty of plants, fresh vegetables and fruits, or the opportunity to get their hands into dirt. Fern Richardson's book, Small Space Container Gardens, is a good resource for people wanting to garden where space is limited to a balcony, porch, patio, deck or roof top.
The book is divided into 9 chapters that cover all the basics needed for successful gardening in small spaces. Even if you have never gardened before you will be able to follow the advice provided and have a positive experience. Starting with choosing colors, containers, flooring, furniture, ornaments and lighting, Richardson shows the reader numerous possibilities and provides directions for inexpensively up grading terra cotta or plastic pots in a simple DIY project. She moves on to show why considerations of shade, temperature, wind and rain are critical to successful small-space gardening, giving suggestions for solving potential problems and emphasizing the importance of proper plant selection. Knowing how bees, birds, and friendly insects like ladybugs can enhance the garden, Richardson suggests strategies for attracting them to the small-space garden including suitable plants, and DIY projects for a mod-minimalist bird feeder and a stylish birdbath
Creating a potager in a small space can be challenging but Richardson makes it look easy. She suggests plants that produce edible flowers, fruits, or leaves, and provides descriptions of specific vines, herbs, vegetables, shrubs and trees that can be used to create a productive garden to feed heart and stomach. She even includes a plan for a balcony potager that features blueberries, salad greens, strawberries, sugar snap pleas as well as edible flowers.
Recognizing that many balconies are long and narrow Richardson presents ways of dealing with the constraints of such a space including the use of succulents, fragrant plants, and hanging baskets. For those longing to have a secret garden Richardson shows you how to create the privacy that a secret garden implies. A chapter on a tropical look includes information on bromeliads, ferns, and vines.
The final two chapters deal with the nits and grits of gardening with special attention to the special problems of small-space gardens. Topics include techniques for potting, repotting, watering, fertilizing, deadheading, pruning, and forcing bulbs as well as pest and disease management.
The entire book is written in an easy to read conversational style and is abundantly illustrated with photographs and diagrams. DIY projects are included that are practical and help cut costs.  Plans for gardens with detailed information on plants show ways to design small space container gardens and are treasure trove of ideas.   Richardson draws from her own long experience gardening in a small space and speaks with authority. She also has a very successful blog, Life on the Balcony.
If you would like to buy Small-Space Container Gardens: Transform Your Balcony, Porch, or Patio with Fruits, Flowers, Foliage, and Herbs from Amazon.com click here.