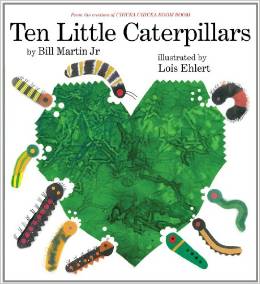 Caterpillars are not everybody's favorite critter but they are fascinating animals. Bill Martin Jr.'s book, Ten little Caterpillars, presents a peek into the lives of ten caterpillars in a beautiful and captivating way that is sure to make young readers enjoy and appreciate these denizens of the garden. Written for children from age two and older, the rhythmic, rhyming text has special appeal for younger readers, while the information presented in the text will appeal to older ones.
The story begins with the illustration on the cover of the book which shows ten different species of caterpillar all eating a heart shaped leaf. Within the book we see what each caterpillar does; one climbs the branch of a wild rose, another wriggles up a snapdragon stem, and a third climbed a cabbage head while a toad watches and a beetle walks along the stem of a winter squash plant. The fourth caterpillar finds a melon patch with three different kinds of melons, the fifth sails in a pond on one of three different kinds of leaves, and the sixth is carried off to school where it lives in a bottle. The seventh and eight caterpillars meet different kinds of birds, the ninth meets a fish, and the tenth forms a chrysalis in an apple tree until it develops into a beautiful butterfly. The final two spreads in the book show and identify each of the ten different caterpillars and the butterflies or moths they become, and gives information on what the caterpillar eats. Splendid! In this one book we can teach numbers, the life cycle of butterflies and moths, and the identification of common garden plants, insects and other animals.
Every two page spread is filled with colorful plants and animals each inconspicuously labeled. Young readers see lady bugs, a spider, dragonfly, grasshopper, milkweed, thistle, delphinium, gaillardia, foxglove, and more. Lois Ehlert's illustrations are large and colorful, show the key characteristic of each plant or animal. This is an excellent book for inspiring a love of nature.