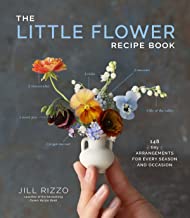 Florist, Jill Rizzo, explores the world of miniature arrangements in her book, The Little Flower Recipe Book. With a love of the natural garden look, she presents 149 examples of these charming designs for imitation and inspiration. The book covers a wide range of plant material, floral projects, and essential information for making arrangements, so provides an excellent beginning point for anyone wanting to try their hand at this creative and challenging art. A special section shows details for making a wreath, creating a twig garland, making a paper cone for a container, and gluing, wiring, and stringing plant material.
After brief discussions of tools, containers, techniques, flower care, and harvesting and sourcing flowers, Rizzo presents her projects organized by the seasonal availability of the plant material. She includes widely available florist flowers as well as garden varieties, weeds, and other floral elements provided by nature. The projects run the gamut from single stems in a container to floating arrangements and mushrooms on a lichen covered branch and include napkin rings, picture of pressed flowers, a boutonniere, wall hangings and wreaths, as well as traditional arrangements in varied containers such as a doll vase, craft box, and tea cup. Each project entry includes a list of ingredients, vessel and stabilizer suggestions, and step by step directions for completing the arrangement, accompanied by photographs of the various steps as well as the completed project.
The Little Flower Recipe Book is a unique addition to the floral arrangement library because of its focus on miniature arrangements and the diversity of the materials it employs from plant material to containers. No matter what your interest in floral arranging, there are many things in this book to catch you attention and spur you on to make your own creation. With her very readable text and abundant photographs, Rizzo provides inspiration as well as a blueprint for success.
To buy The Little Flower Recipe Book from Amazon, click here.