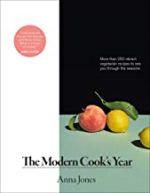 In her book The Modern Cook's Year,  Anna Jones presents more than 250 vegetarian recipes that demonstrate her sensitivity to the relationship between food and the seasons and further to the time, place, and memories that are associated with it.  The result is a cookbook of unusual recipes divided into 6 groups that roughly join two months together and feature ingredients when they are at their prime.  With vegetables at the center of each recipe, Jones uses flavor profiles from around the world in new and exciting ways that are sure to tickle the imagination and please the palette.
Each group of recipes starts with a list of the best vegetables and flowers of the season and is followed by an assortment of recipes that can be used for breakfast, lunch, dinner or snacks.  Each recipe is introduced by one to several paragraphs describing the author's feelings and experience and includes a list of ingredients, step-by-step instructions, and a full page photograph of the completed dish follow, sometimes accompanied by tips and suggestions to enhance the dining experience.  For the start of the year Jones' offers such treats as beet and mustard-seed fritters with cardamom yogurt, green peppercorn and lemongrass coconut broth, and apple and white miso kimchi while for spring she suggests an avocado and cardamom smoothie, creamy cannellini and sorrel on toast, and crushed new potatoes, broccoli, and blood-orange cream.  For the first warm days, how about golden six-spice paneer with lime pickle and smashed peas?  Or for summer, smokey roasted carrot burgers or  creamy spiced chickpeas, burnt lemon and string beans?  Autumn brings smoky mushroom and roasted kale lasagna, parsnip, butter bean, and blackberry bake, and chard, lentil, and bay leaf gratin while winter offers chocolate rye porridge with honey pears, baked celeriac macaroni with a crispy olive top, and polenta with radicchio and charred mushrooms.  Although the recipes are vegetarian, the author suggests vegan alternatives were possible.  Many insets discuss topics like juicing, making herbal infusions, and using less plastic.  Especially valuable are the tables for using flat breads, creating salads, and making fritters.
The text is chatty and personal, the format easy to navigate, and the recipes very unique.  Coconut oil and milk, and a large number of spices and herbs are used in the recipes and some of the ingredients are difficult to find.  The author claims that she puts dinner together in less than an hour but she is certainly faster than I could ever be.  The Modern Cook's Year offers a lot in terms of interesting combinations of foods and flavor profiles and is well worth serious consideration even to omnivores.
To buy The Modern Cook's Year from amazon.com click here.