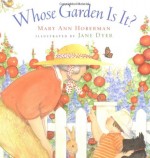 Mary Ann Hoberman's book, Whose Garden Is It? is a delightful way to share a gardening experience with a child. And what better way is there to develop a child's interest and love of the nature world than sharing? Every page of this charming book present a new look at the animals and other factors that make a garden a very special place.
When Mrs. McGee and her toddler take a stroll they come to a garden full of flowers and vegetables causing her to exclaim "How splendid! How pleasant! How simply exquisite/This garden is perfect…/But whose garden is it?" There are lots of answers coming from the gardener, a rabbit, woodchuck, bird, worm, bug, flea, butterfly, bee, vole, and more. "It is mine." a plant rustled, "I blossom in season. If this is a garden, then I am the reason." Even the sun, rain, and soil get into the act; "It is mine." smiled the sun, shining down on the tree. "I bring heat, I bring light. Nothing lives without me." The end of the book leaves the reader and Mrs. McGee still pondering the question, whose garden is it?
The book has a lot to recommend it. The relationship between animals, plants, soil, sun and rain in a garden is brought out in a simple way that even a preschooler can understand. The bold illustrations create a beautiful garden of delphiniums, hollyhock, black-eyed Susans, sunflowers, melons and tomatoes that any child or adult could love. The many creatures in the garden, even the squash bug, flea and snake, are dressed in outfits that endear them to the reader.  And, hey, when was the last time you saw a rabbit in a ballerina dress? The gentle rhythm of the verse moves the story move along and invites a child to feel the story as well as enjoy it. I love reading the book with or without my granddaughter beside me!