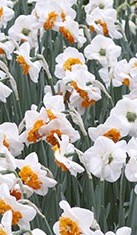 Daffodils do not like shade. They may bloom well the first year but if they do not have sufficient sun they can not store enough energy to keep on producing their beautiful flowers and they will slowly die out. Most daffodils do best in full sun but some daffodils can limp by with light or part shade (two to four hours of shade). Here are five that are known for their relative shade tolerance. If they do not do well in your site, consider replanting narcissus bulbs every year.
'Birma'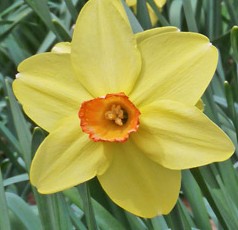 Introduced in 1938, 'Birma' is considered an heirloom variety. Its single flower per stem has broad yellow petals and an orange fluted cup.
Classification: Small cup
Height: 14-18
Bloom Time: Early spring
Hardiness: Zones 3-8
'Johann Strauss'


The overlapping white petals of the single flowers surround a bowl-shaped ribbed cup with frilled edge.
Classification: Large cup
Height: 12-18"
Bloom Time: Early to mid-spring
Hardiness: Zones 4-9
'Satellite'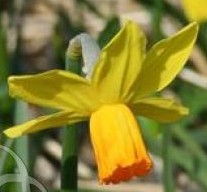 The two to three inch single flower has yellow reflexed petals and an orange cup.

Classification: Cyclamineus
Height: 12-13"
Bloom Time: Very early spring
Hardiness: Zones NA
'Waterpenny'


The two to six fragrant flowers per stem have white petals and a light yellow cup that blushed to pink as it matures.
Classification: Jonquilla
Height: 12-18"
Bloom Time: Late winter to early spring
Hardiness: Zones 5-9
Professor Einstein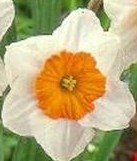 The single flowers have white petals around a wide, dark orange, frilled cup. Flowers are fragrant and bulbs naturalize well.
Classification: Large cup
Height: 18-20"
Bloom Time: Mid-spring
Hardiness: Zones 3-7