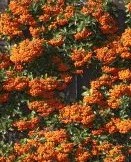 When the leaves fall in autumn and the first frost sweeps over the garden I always wish I had more plants that produce ornamental berries. The berries can provide color in the garden, attract birds and other wildlife, and be used in the arrangements for the holidays. Many plants that produce attractive berries are good garden plants and can add to the garden in other seasons with their attractive foliage and/or flowers.
Here are some plants that produce berries that mature in the fall. I have listed them in order of the ripening and persistence of their fruit.

Beautyberry (Callicarpa dichotoma)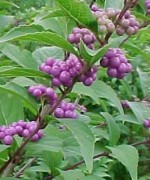 The purple berries are borne in dense clusters on long arching stems in September and persist through October. The cascading appearance of the shrub and its good fall color give it year round appeal.
Type:
Height:
Light:
Soil:
Fertile, medium moist, well-drained
Hardiness:

American Bittersweet (Celastrus scandens)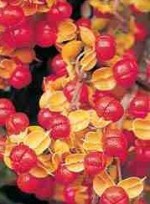 Not to be confused with oriental bittersweet (an invasive species), American Bittersweet is a well behaved vine growing up to 20 feet long. The yellow berries hang in clusters two to four inches long during July-October, and split open to reveal bright red-orange fleshy seeds. The seeds are attractive to wildlife and also make a smashing addition to Halloween or Thanksgiving decorations.
Type:
Length:
Light:
Soil:
Hardness:

Snowberry (Symphoricarpos albus)
The white fruits of snowberry are born September through November on slender arching stems. They persist on the rounded deciduous shrub after the foliage has fallen and are attractive to both birds and mammals.
Type:
Height:
Light:
Soil:
Average, moist, well-drained; tolerates some dryness and alkalinity.
Hardiness:

'Sparkleberry" Holly (Ilex serrata x verticillata 'Sparkleberry')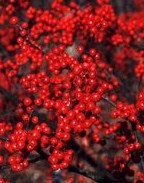 The bright red berries are produced in dense clusters on an upright, deciduous shrub and are a spectacular sight. 'Sparkleberry' is a female plant and must have a male holly to produce berries. The recommended male holly for the job is 'Apollo'. Together, 'Sparkleberry' and 'Apollo' produce berries that are larger, showier, and longer lasting than those of other deciduous hollies.
Type:
Height:
Light:
Soil:
Average, dry to wet, sandy loam to clay loam
Hardiness:

Firethorn (Pyracantha coccinea)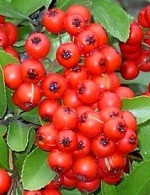 Other than the thorns, this plant is an outstanding shrub. It thrives on neglect, produces attractive flowers in spring followed by an abundant crop of berries, and is evergreen. The berries start out green but gradually change to shades of yellow, orange, or red and persist into early spring. Cedar waxwings love the berries so if you want to use them in arrangements (they have a long vase life), you will have to outwit the birds.
Type:
Height:
10' tall but responds will to pruning and good subject of espalier .
Light:
Full sun preferred but part shade tolerated with decreased flowering and fruit set
Soil:
Average to lean, moist to dry
Hardiness:
By growing a variety of plants you can extend the length of time that berries contribute to the garden. The beautyberries ripen first but persist for weeks and are followed by the others so that the berries can be present well into spring. Colors vary from white, to purple, orange and red so can be incorporated into various color schemes in both the garden and holiday arrangements.