Variegated plants are always desirable in the garden for the long term color they provide. They draw the eye and can be used to move the eye around the garden, distract the eye from eyesores, and accent other plants. They can be used as focal points or as color echoes to create a pleasing long lasting effect. Of course, you have to use these plants carefully and not fill the garden with them or you will end up with a jumble that confuses the eye rather than pleases it.
Here are six plants with pink variegated foliage including a vine, ground cover, shade, and sun plants.
Variegated Kiwi Vine (Actinidia kolomikta)

A vigorous, woody, deciduous native of Asia, variegated kiwi vine has heart shaped leaves that are dark green tinged with purple when young but develop pink and white blotches as they mature. Small inconspicuous flowers appear in early summer and are followed by a small greenish fruit on female plants. Male plants have the best leaf color.
Height: 16 '
Light: Full sun
Soil: Fertile, moist, well-drained
Hardiness: Zones 5-8
Chameleon Plant (Houtonia cordata) 'Chameleon'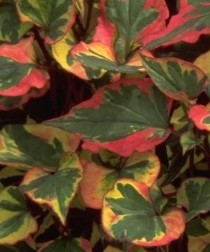 This rhizomateous spreads rapidly and can become invasive in moist soil. The heart-shaped leaves are green, white to yellow, and pink to red. Small greenish flowers surrounded by four white petal-like bracts appear in mid- to late spring.
Height: 8-18"
Light: Full sun to part shade; best color in full sun
Soil: Moist to wet
Hardiness: Zones 4-10
Caladium bicolor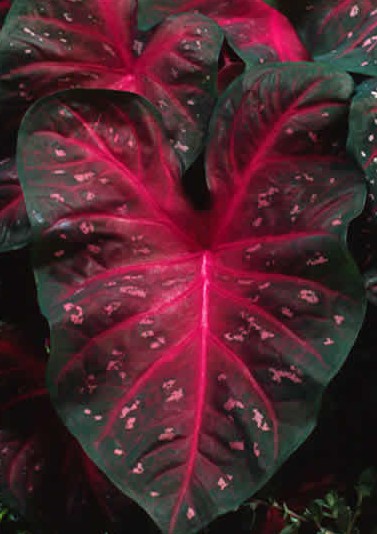 There are many different caladium hybrids with varying amount of white, red, and pink variegation in their leaves. The leaves are generally heart shaped and 6-18 inches long. Caladiums grow from corms which are lifted in fall and stored for winter in most climates.
Height: 24-36"
Light: Part sun-part shade
Soil: Fertile, moist, well-drained
Hardiness: Zones 9-11
Joseph's Coat (Alternanathera ficoidea)

A native of Mexico and South America, this annual has leaves ½ – 1" long green leaves that are blotched with an assortment of colors including bronze, red, and pink. Many cultivars are available differing primarily in height and color. 'Partytime' is particularly attractive.
Height: 6-24"
Light: Full sun
Soil: Average, moist, well-drained
Hardiness: Annual
Joseph's Coat (Amaranthus tricolor)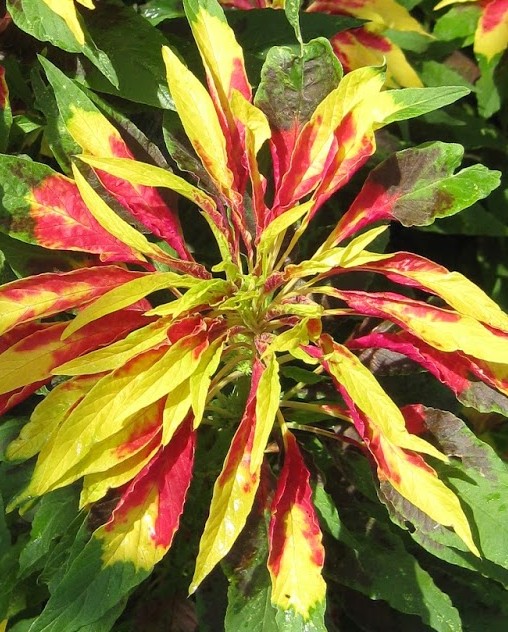 In the same family as Alternanathera ficoidea, but a native of Indonesia, this annual is also known as Chinese spinach. The plants are upright and have oval leaves 8-10 inches long and about 3 inches wide. Depending on the cultivar the upper leaves are a combination of two or more hues of yellow, red, purple, green and pink.
Height: 1-5' depending on the cultivar
Light: Full sun
Soil:Fertile, moist, well-drained
Hardiness: Annual
New Zealand Flax (Cordyline australis 'Sundowner" aka Phormia

'Sundowner')
A large upright shrub, 'Sundowner' has long stiff green leaves 2.3-3 inches wide with rose pink margins.
Height: 6'
Light: Full sun
Soil:Fertile, moist, well-drained
Hardiness: Zones 8-10