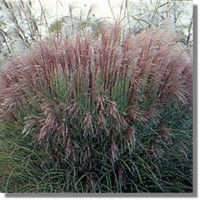 Ornamental grasses have become increasingly popular in the last few decades. Before 1950 they were rare in American landscapes but since that time they have become a staple in American gardens and are now a common sight in home gardens as well as at commercial sites and along highway medium strips. What accounts for this rise is favor?
Many factors combine to make ornamental grasses a good choice for inclusion in the landscape.

Beauty
Grasses offer a variety of sizes, colors, forms, and textures that make them an asset to garden design. Their flowers and seed heads can be spectacular over a long bloom time and plants add movement as they blow in the breeze.

Winter Interest
Foliage and seed heads often persist into winter adding all season interest especially in areas where ice and snow change their form and appearance.

Low Maintenance
Grasses adapt to a wide variety of soil conditions and can tolerate variations in moisture and pH. Once established many are drought tolerant. Most grasses are not bothered by pests and disease and are easy to propagate by seed or division. With relatively low nutrient requirements, few grasses need more than annual grooming spring.

Erosion Control
With their fibrous network of roots, grasses can stabilize soil and control erosion.

Versatility
Grasses can fill many roles in the garden including hedges, screens, ground covers, specimen plant, and edgings. They are good additions to specialty gardens such as rock gardens, alpine gardens, and water gardens. Their subtle colors set off the bright colored flowers of other annuals and perennials.

Floristry
Seed heads and foliage are useful in both live and dried arrangements.

Attract Wildlife
Birds and other wildlife are attracted by grasses for both cover and food.

Ecological Responsibility
Vast areas of the United States were once grasslands where plants lived in harmony with each other.  As we are becoming more ecologically aware grasses are more appreciated for the fine qualities they possess and their ability to fit into the environment without depleting or damaging it.