Most gardeners do not think of growing grasses for fragrance but there are some available. The fragrance may be in the flowers, the roots, or the leaves. Grasses with fragrant leaves are especially nice when where their leaves can be crushed so as to release their scent. Although rare, grasses with fragrance add another dimension to the garden and are well worth planting.

paltrily Japanese Sweet Flag (Acorus gramineus)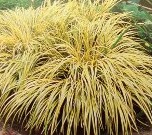 A grass-like plant, Japanese sweet flag is evergreen with glossy, dark green leaves ½ inch wide and six to 12 inches long. The leaves are fragrant and emit a sweet calamus scent when crushed or bruised. Compact varieties are available that can be planted between stepping stones or cracks in pavement where they accommodate considerable foot traffic. The flowers are small and inconspicuous. Plants are susceptible to spider mites. Several cultivars are available varying in height and leaf color.
Height: 3-10"
Light: Full sun to partial shade
Soil: Fertile,constantly moist, acid
Hardiness: Zones 7-10

http://jasonwebertherapy.com/archives.php Sweet Vernal Grass (Anthoxanthum odoratum)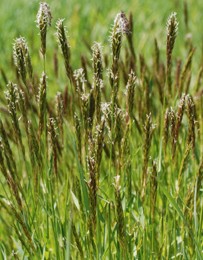 This clump-forming, cool-season, evergreen grass has medium green leaves ¼-1/2" inch wide. The leaves contain coumarin and are fragrant when cut, crushed or bruised. The silky green flowers arise in spikes 12-16" above the foliage in spring, dry to golden yellow by summer, and persist into late fall. The plant tolerates considerable foot traffic and can be mowed occasionally.
Height: 6-24"
Light: Full sun; tolerates light shade
Soil: Fertile acid loam but tolerates less
Hardiness: Zones 5-10

Lemon Grass (Cymbopogon citratus)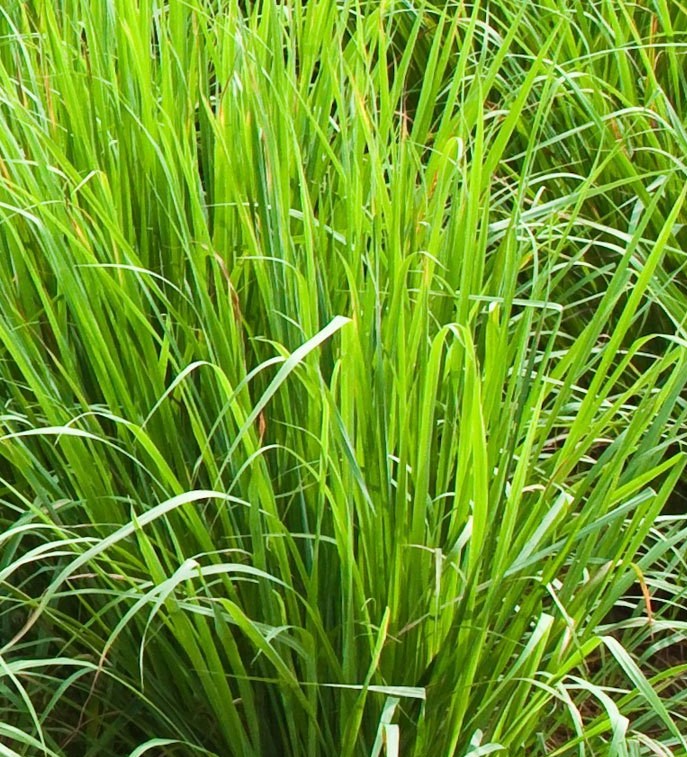 An herb used extensively in Southeast Asian cooking, lemon grass is a tender perennial, with fragrant, bright yellow-green leaves 2-3 feet long and 1-1 ½" wide. Flowers are rare. Plants do well in containers and indoors if light is sufficient.
Height: 3-6'
Light: Full sun
Soil: Fertile, humus-rich, well-drained loam but tolerates less
Hardiness: Zones 9-10

Prairie Dropseed (Sporobolus hetrolepsis)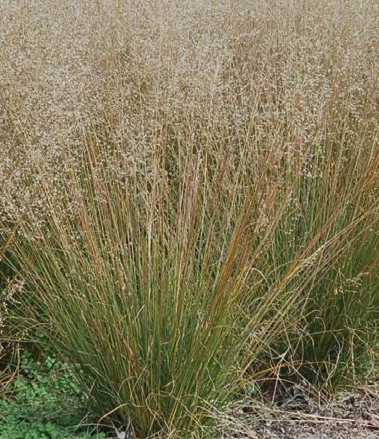 This perennial native prairie grass forms dense, upright light green clumps that turn golden by fall and light creamy brown in winter. Showy sweet smelling flowers are produced in late summer on 6-8" long loose panicles that stand 2½ – 3½ feet above the foliage. The scent attracts birds and wildlife.
Height: 1½-5'
Light: Full sun
Soil: Dry, rocky, but tolerates less if soil is well-drained
Hardiness: Zones 3-9

Vetiveria (Vetiveria zizanioides)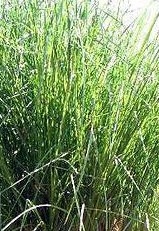 Native to India, Asia and North Africa, vetiveria is a warm-season grass cultivated for its fragrant roots that are made into baskets, furniture, and screens. It forms a tight vertical clump of glossy, bronze-green leaves 4-8 feet long that fold over 1-2 from from the tip. The flowers form fluffy clusters 1 foot long well above the foliage. Useful as a hedge or screen in mild climates, it also tolerates wind.
Height: 4-8'
Light:Full sun to light shade
Soil: Moist, humus rich
Hardiness: Zones 9-10