Blue is a very valuable color in the garden both complementing and blending colors together. The glaucous blue foliage of grasses can add special shades of blue as well as create textural interest with long their linear leaves. Combine with a little silver foliage to heighten and enhance the blue and mix in some flowering plants with some rich, hot colors to add pizzazz. All of these grasses do best in full sun although two tolerate some shade.
These five grasses are all bluish in color but vary in their height, soil/moisture requirements and hardiness.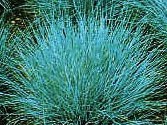 Blue Fescue (Festuca glauca) 'Elijah Blue'This perennial clump forming grass has fine silver-blue foliage and forms a porcupine like mound. Light green flowers that give way to tan seed heads are produced on 10-12" tall panicles in late spring and early summer. Many gardeners do not find them attractive and cut them off. Clumps tend to die off in the center and need to be divided every 2-3 years.
Size: 8-12 H x 6-8" W
Soil: Average, dry to medium; drought tolerant; intolerant of wet soils
Hardiness: Zones 4-8

Blue Oat Grass (Helictotrichon sempervirens)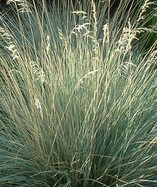 Blue oat grass is similar to blue fescue but considerably larger with the flower stems rising twelve inches over the rounded mound of steel blue foliage. The flower heads that are produced in summer are attractive. The cultivar 'Saphirsprudel' is so similar to the species that for practical purposes it is indistinguishable.
Size: 24-36" H x 18-24" W
Soil: Average, dry to medium
Hardiness: Zones 4-8

Blue Hair Grass (Koeleria glauca)
The circular mounds of bluish green foliage produce panicles of green flowers in spring that mature to silvery-white. A native of dunes in central Europe, plants live only 2-3 years in moist soil.
Size: 6-24" H x 6-12" W
Soil: Prefers infertile, dry, sandy soil; drought tolerant
Hardiness: Zones 5-9

Sea Lyme Grass (Leymus arenarius)
A tall plant with a coarse texture, sea lyme grass tolerates hot weather, dry and wet soil, and some shade. It is prized for its steel blue flat foliage that is also valued for flower arranging. It spreads by rhizomes and can be invasive. Cut back during the summer to keep foliage fresh and blue. The cultivar 'Blue Danube' is especially heat tolerant.
Size: 3-5' H x 2-3' W
Soil: Tolerates most common soils including sandy and clay.
Hardiness: Zones 4-10

Switch Grass (Panicum virgatum) 'Praire Sky'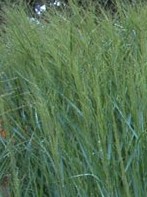 Switch grass grows in erect narrow columnar clumps that add height and verticality to the garden scene. The fluffy flower heads open red in summer, turning beige in the fall and persisting into winter. A good grass for fresh and dried arrangements.
Size: 4-6' H x 2-3' W
Soil: Average, wet to medium; drought tolerant
Hardiness: Zones 4-9