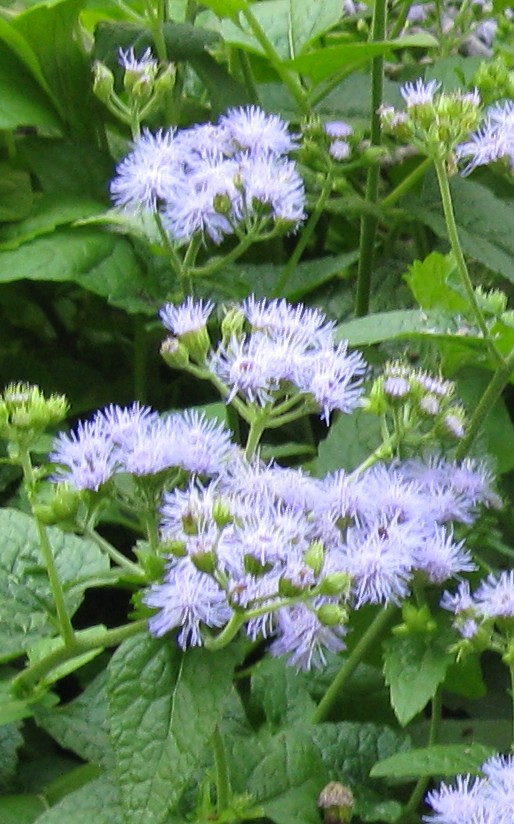 Eupatoriums are members of the Asteracea family and may be annuals, perennials, or shrubs. Many of the over thrity six species in the genus are wildflows in eastern US. A few are considered good garden plants. The flower heads are made up entirely of disc florets and are clustered into flat toped or domed infloreseces. They are valued for their late summer and fall bloom time. The leaves are opposite or whorled and are lance- to wedge-shaped or rounded. The stems are straight and erect. The most common Eupatoriums grown as garden plants are Joe Pye weed and hardy ageratum.
All the Eupatoriums described below are perennials.  Although most prefer full sun, they will tolerate shade but not bloom as well.  In addition, they will need considerably more water when grown in the sun than in the shade.
Hardy Ageratum (E. coelestinum)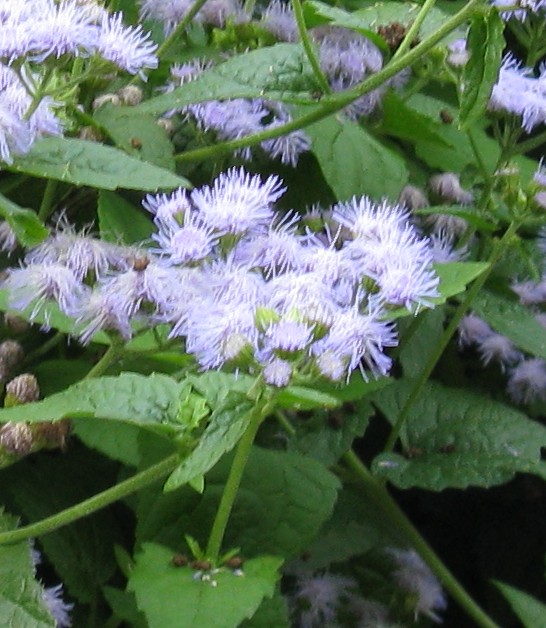 Also known as blue mistflower, hardy ageratum is native to central and southeastern US and the West Indies. It has a weedy look and can be invasive but contributes a lot to the garden with its azure blue clusters of flower heads two to four inches across that appear in late summer to fall. The dark green leaves are two to three inches long and are coarsely toothed. A white cultivar is available
Size: 2-3' H x 3' W
Light: Full sun; tolerates some shade
Soil: Average to fertile, evenly moist, well-drained
Hardiness: Zones 6-10
Joe Pye Weed (E. purpureum)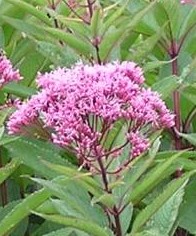 Green hallow stems with purple nodes form massive clumps at maturity. The toothed leaves are eight to twelve inches long and form whorls of three to five leaves. In late summer to fall pink to purplish flower heads are produced in clusters twelve to eighteen inches across.
Size: 4-7' H x 3' W
Light: Full sun; tolerates some shade
Soil: Average, moist
Hardiness: Zones 4-8
Spotted Joe Pye Weed (E. maculatum)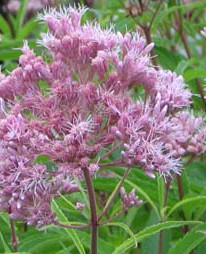 Similar to E. purpureum but it has purple speckled and mottled stems. The flowers are pale to dark purple and produced in flat clusters four to six inches wide.
Size: 4-7' H x 3' W
Light: Full sun
Soil: Average, moist
Hardiness: Zones 2-7
White Snakeroot (E. rugosum)


The most popular of the white flowered Eupatoriums, white snake root has pointed, nettle-like leaves three to seven inches long. The flowers heads are produced in flat clusters three to four inches across.
Size: 3-5' H x 4′ W
Light: Full sun, part shade
Soil: Average, medium moist, well-drained
Hardiness: Zones 3-7

Once a popular medicinal herb, it was believed to be a highly effective cough and fever remedy including a flu called boneset fever.  In recent times, however, it has proven to be ineffective. It has a hollow, hairy stem that appear to grow through the dark green eight inch long leaves, and  creamy white flower heads produced in terminal clusters
Size: 4-6' H x 3-4' W
Light: Full sun to light shade
Soil:Average, moist to wet
Hardiness: Zones 3-8