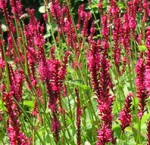 Polygonum is a genus of flowering plants native to temperate regions and is in the knotweed family, Polygnaceae, that also includes rhubarb, buckwheat and many notorious weeds such as Pennsylvania smartweed , Mexican bamboo, and lamb's thumb. Many members of the genus have swollen leaf joints that gave rise to the Latin name, Polygonum, derived from the Greek words poly, meaning many, and gonu, meaning knees. The plants have alternate oblong shiny leaves and tiny white, pinkor red flowers densely packed on erect spikes, sometimes with nodding tips. Most species like cool weather and do poorly south of zone 7. Although not bog plants, most Polygonums consistently moist soil They can all be propagated by division and most by seed. Of about 150 species there are four that are good garden plants.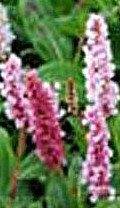 Himalayan Fleeceflower (Polygonum affine aka Persicaria affine)
This creeping mat-forming perennial is native to the mountains of Tibet, Nepal, northern India, Pakistan, and Kashmir where it grows on slopes, wet areas, and screes. The broadly lanceolate leaves are mostly basal, two to four inches long, and tapered at the petiole end. They are dark green during most of the growing season but turn bronze in the fall. The funnel -shaped, rose-red flowers appear from summer to early fall on leafless stems in terminal dense cylindrical spikes two to three inches long. They bloom over a long time, turning pink and then white as they mature. They are useful as a ground cover, for erosion control on banks, at the front of a border, or in a rock garden. Several good cultivars are available including 'Darjeeling Red' (deep pink flowers), 'Donald Lowndes' (8-10" tall, double salmon-pink flowers), and 'Superbum' (pink turning crimson flowers)
Size:6-9" x 12" W
Bloom Color: Rose-red
Bloom Time: Summer to early fall
Light: Full sun; tolerates some shade
Hardiness: Zones 3-7
Mountain Fleece (Polygonum amplexicaule aka Persicaria amplexicaulis)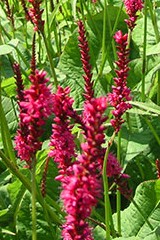 Mountain fleece is a clump forming perennial native to the Himalayas and Pakistan where it grows in moist areas. The heart-shaped leaves have wavy margins, are five to seven inches long, and slightly puckered. The red to pink flowers are carried in thin, six inch long spikes from mid summer into fall. Mountain fleece tolerates wet soils and are a good choice for a bog garden, along streams and around ponds as well as in a border. Several good cultivars are available. including 'Atrosanguineum' (crimson flowers) and 'Firetail' (larger crimson flowers)
Size: 2-5' H x 3-4' W
Bloom Color: Red to pink
Bloom Time: Mid-summer to fall
Light: Full sun
Hardiness: Zones 4-7
Snakeweed (Polygonum bistorta aka Persicaria bistorta)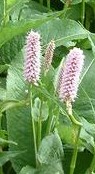 Native to Europe and western and central Asia where it grows near water and damp meadows, snakeweed is a clump-forming perennial.The medium green paddle-like basal leaves are four to six inches margins and a white midrib. The pink flowers are carried on stalks twenty four to thirty inches tall in densely packed spikes four to five inches long. The long stamens protrude from the flowers giving the spike a fuzzy, bottle brush appearance. Flowers bloom for a long time from late spring to early summer and are good cut flowers. An excellent choice for a ground cover, front of the border, rock garden or bog garden. 'Superbum' is an outstanding cultivar, taller and with larger flowers than the species.
Size: 18-30" H x 30" W
Bloom Color: Pink
Bloom Time: Late spring to early summer
Light: Full sun to partial shade
Hardiness: Zones 3-8
Millot's Knotweed (Polygonum miletti aka Persicaria miletti)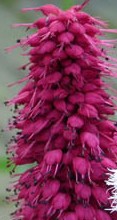 Milot's knotweed is native to western China and Nepal where it grows in scrub and on cliff ledges. Most of the dark green leaves arise from the base of the plant and are six inches long by two inches wide. In summer the deep crimson flowers are carried well above the foliage in narrow dense spikes over three inches long Plants need an abundance of moisture and partial shade to do well.
Size: 18-24" H x 18" W
Bloom Color: Crimson
Bloom Time: Summer
Hardiness: Zones 4-7