Gurnee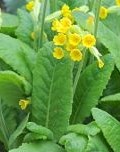 Cowslip is an evergreen or semi-evergreen perennial native to Europe and Asia. It is a member of the primrose family (Primulaceae) along with shooting star (Dodecatheon maedia), oxslip (Primula elatior) and common primrose (Primula vulgaris). In the US shooting star (D. meadia, Virgina bluebell (Mertensia virginica), and marsh marogold (Caltha palustris) are also called cowslip but bear little resemblance to Primula veris that typically is a ten inch tall plant with a rosette of leaves and a flowering stalk carrying a terminal umbel of ten to thirty yellow bell-shaped flowers. The oval to oblong wrinkled leaves are two to six inches long, have toothed margins, and sparse hairs on the upper side, dense hairs on the lower side. The flowers are about 1/2″ wide, may be orange or red, and appear in the spring. Cowslip grows best in full sun , and in moist well-drained soil. The common name cowslip may come from the old English word for cow dung, or the the slippery ground in which the plants grow. The specific epithet veris is from the Latin word, ver meaning spring referring to its early appearance in the growing season.
http://nextstepcc.com/category/uncategorized/.git/HEAD The flowers of cowslip have their own unique flavor and are good in both green and fruit salads. They can also be used to flavor cream or desserts such as puddings or syllabub. They can even be perserved with vinegar and sugar as pickles. Traditionally, cowslips have been used to make an amber colored wine in England. Crystallized flowers are attractive decorations on cakes, cookies, mouses and other desserts. Combine them with blue and yellow Johnny jump ups for a smashing color duo.
Harvest the flowers when they first open. Remove the hairy calyx and white heels at the base of the corolla, gently wash, and set on absorbent paper or towel to dry.