A rose bush covered with large flowers is very appealing especially if the bush is low maintenance. The four roses described below have flowers that are at least four inches across and are low maintenance as indicated by the designation, Earth Kind. This designation is given to roses that meet exacting cultivation standards including tolerance to heat, drought and a variety of soil types, as well as the ability to grow without pesticides, fungicides, or fertilizers, once established.
'Belinda's Dream'

The mid-pink flowers have paler reverses and are carried in small clusters. Their large size, fullness, and long vase long vase life, make them especially appreciated as cut flowers. The vigorous bushes are lax, arching and lightly covered with small blue-green leaves. They do especially well in the heat, may develop black spot in cool damp climates but remain vigorous and floriferous.
Type: Shrub
Color: Medium Pink
Flower Size: 4"
Petal Count: 100+
Plant Size: 5-10' H x 5-13' W
Flowering: Flushes
Scent: Moderate, fruity, raspberry
Hardiness: Zones 5-9
ARS Rating: 8.4
'Carefree Beauty'

Bred by Griffith Buck to withstand the cold winters of the American Midwest, 'Carefree Beauty' has long buds that open to large flat flowers carried singly or in small clusters of two to five . The flowers have a few loose petals in the center along with an occasional white stripe running through them. They have a paler reverse, age to a darker pink, and are followed by large orange hips. The leafy bushes are vigorous and have medium green, semi-glossy foliage. They tolerate some shade.
Type: Shrub
Color: Medium Pink
Flower Size: 4"
Petal Count: 26-30
Plant Size: 5' H x 2-5' W
Flowering: Flushes
Scent: Light, fruity
Hardiness: Zones 4-9
ARS Rating: N/A
'Madame Antoine Mari'

Long solitary buds open to flowers that are light pink with white enters and red-shaded outer petals. The large flowers are up to four inches long and have a mild fragrance. The vigorous bushes are well branched and have maroon new growth.
Type: Tea
Color: Pink blend
Flower Size: 4"
Petal Count: Double
Plant Size: 6' H x 6' W
Flowering: Successive flushes
Scent: Medium
Hardiness: Zones 7-9
ARS Rating: 8.4
'Souvenir de St. Anne's'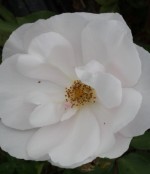 This sport of the famous 'Souvenir de la Malmison', produces pink semidouble flowers with a spicy fragrance that perfumes the entire area. The bushy shrubs are especially appreciated near a doorway or window where the scent can be enjoyed.
Type: Bourbon
Color: Blush pink
Flower Size: 4-4.7"
Petal Count: Semi double
Plant Size: 3' H x 3' W
Flowering: Flushes
Scent: Strong, sweet, spicy
Hardiness: Zones 6-9
ARS Rating: 8.6
To read more about Earth-Kind and other low maintenance roses click here.