Chartreuse, or lime green, is a color that has always appeals to me and so I am drawn to plants that have either chartreuse flowers or chartreuse leaves. Chartreuse stands out any place and goes with almost every other color so it is easy to use in the garden. I have written on some of my favorite plants with chartreuse foliage and now I turn to plants with chartreuse flowers. I have chosen plants of various types and that bloom at different times so that if you like chartreuse flowers you can enjoy them for as long as possible during the gardening season.

In winter, Lenten Rose (Helleborus orientalis) blooms with its simple flowers set off by its handsome foliage even when snow covers the ground. Not all plants of this species have green flowers so you might want to try stinking hellebore (Helleborus foetidus) which more reliably has chartreuse flowers but blooms considerably later.

During the spring, snowball viburnum (V. macrocephala) present chartreuse heads of flowers that slowly change to white. A bush covered with lime green flower heads is a magnificent sight! These flower heads are prized by florists and used extensively in spring bridal work and you may have appreciated them in that role.
Late spring brings the fluffy heads of lady's mantle's (Alcmillea mollis) flowers billowing over soft gray-green foliage. As beautiful as the

color of the flowers is, the plants are worth growing for their foliage alone so this is really a two for one deal. Stems of Lady's Mantle flowers are beautiful in arrangements as well as being a knock out in the garden.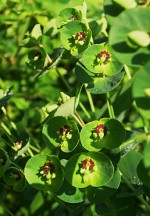 As spring turns into summer cushion spurge (Eurphobia x martini 'Tiny Tim') produces unusual flowers that are conspicuous because of their chartreuse bracts. These 12" compact, mound forming plants provide color all summer and are handsome at the front of the border.

The hydrangea (H. paniculata) 'Limelight' is a popular shrub with large bushy panicles of chartreuse flowers that slowly change from white to pink and end up burgundy in the fall. The green color is best in cooler climates but the plant does well in zones 3-8, growing about 6′-8′ tall. Heads can be dried for winter use.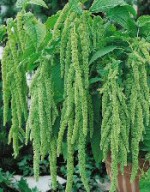 The green variety of the annual love-lies-bleeding (Amaranthus viridflora) is a show stopper! Its long tassels of tiny chartreuse flowers are like no other. The plant is quite large and course but the tassels of great assets in the garden, and in arrangements. This plant has a special place in my heart because I won the admiration of all my coworkers when I showed up at a florist's dinner wearing a corsage featuring its flowering tassels. This is another flower that dries well for fall arrangements.

Another annual with chartreuse flowers zinnia (Z. elegans) 'Green Envy. Like many chartreuse flowers, the best color is developed if the plants are grown in partial shade especially where summers are hot. The 2" wide flowers are carried on tall stems up to 30" in length and are lovely in arrangements.

The 3" wide flowers of perennial coneflower (Echinacea purpurea) 'Coconut Lime' has a brownish-gold cone surrounded by frilled chartreuse petals ringed with backward swept white petals. Definitely an odd look and maybe not chartreuse enough as the dominant color is white.
The summer blooming bulb Gladiolus 'Green Star' sends up tall stem (up to 60") full of beautiful chartreuse flowers. It blooms from mid-summer until frost and begins blooming 60-100 days after planting. Glads are always popular as cut flowers providing both height and a spike-like form. You get a lot o bang for your buck with glads.

Autumn stonecrop (Sedum 'Citrus Twist') offers good foliage as well as attractive flowers. It forms bush mounds of waxy green leaves flushed with purple early in the season and 18" stems with large colorful heads of chartreuse flowers late in the season. The flowers attracts butterflies and produce seed heads that give winter interest.
There are many flowers that have a touch of chartreuse or various shades of green. Others may have chartreuse only at certain times of their development or under certain conditions. Regardless, flowers with this wonderful color are always useful and fun to have in the garden. If you don't have any, try some; maybe just one this summer. You like them.
If you like chartreuse flowers you might like plants with chartreuse foliage.  Click here for more information on plants with chartreuse foliage.