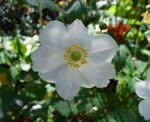 There is something intriguing about a white border and it's easy to create when you consider all the plants with white flowers. Include some with white or variegated foliage and you can have a dazzling show. Of course, you garden will not be all white and you wouldn't want it to be. Green foliage will probably play an important part in the look of the garden and can be used to separate different whites. Yellow stamens, pink sepals, and blue-green leaves will add just a hint of other colors. Notice the textures of the foliage, especially the white and variegated plants, and play use differences to increase the complexity of the visual experience. Best of all, visit your white garden at twilight…it will seem to glow.
Here are some of my favorite flowers from my white border.

'White Swirl' Siberian Iris (Iris sibirica 'White Swirl')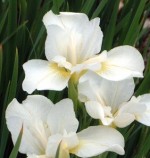 Blooming a little later than its more familiar cousins, German iris, 'White Swirl' is easy to grow and increases steadily. Give it moist well-drained soil and it will thrive and produce an abundance of 3-4" flowers. The sword-shaped leaves are green are attractive long after the flowers fade.
Height: 24-30"
Season of Bloom: Late spring
Light: Full sun to part shade
Hardiness: USDA Zones 3-9

Wormwood (Artemesia x 'Powis Castle')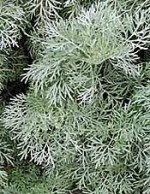 Forget about the insignificant flowers and focus on the lacey silvery white foliage. Brush against the leaves and enjoy the spicy scent. The plant forms a graceful mound that resists the floppiness that plagues some of its cousins when the heat and humidity soar. It looks good all season and is very drought tolerant once established.
Height: 2-3'
Season of Bloom: not applicable
Light: Full sun
Hardiness: 5-8 (4 with protection)

White Crainesbill Geranium macrorrhizum 'Album'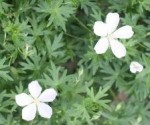 Deeply cut leaves 3-4" long create a lacy backdrop for the abundance of 5 petaled, ¾" flowers surrounded by pink sepals. Clumps grow from rhizomes with wiry roots and spread.
Height: 15-18"
Season of Bloom: Late spring-early summer
Light: Full sun to part shade
Hardiness: USDA Zones 3-8

Gaura (Gaura lindheimeri)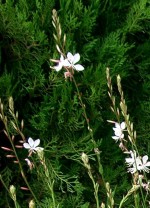 Delicate white flowers are borne on slender erect stems that wave in the slightest breeze. Heat and humidity don't faze it and it is drought tolerant once established. Pick a permanent spot for their airy treasure because its taproot it difficult to transplant.
Height: 3-4'
Season of Bloom: All summer if spent spikes are removed
Light: Full sun
Hardiness: USDA Zones 5-9

Japanese Anemone 'Honorine Jobert ' (Anemone x hybrid 'Honorine Jobert')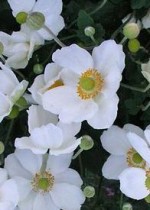 Simple and elegant describe the five petaled flowers of this long blooming plant. The tall flowering scapes arise from an attractive mound of foliage beginning in the late summer. This plant has graced gardens since the beginning of the American Civil War.
Height: 3-4'
Season of Bloom: Late summer into early fall.
Light: Full sun to partial shade (but leans badly in the shade)
Hardiness: USDA Zone 5-8
If you don't have a white border but think you might like one start with just a small area. Try these; they will all grow in the same general area and their bloom overlaps each other that you will have white flowers or foliage from spring until fall.  If all goes well, add plants and increase the size over a few years. And don't forget to view it when the sun goes down.