Chartreuse has always been one of my favorite colors when selecting plants. Most of those that sport chartreuse do so with their foliage so I have many of them, less of those with chartreuse flowers. When a gardening friend looked into my secret garden at all the chartreuse plants and expressed her delight I began to think more about them than I had in the past. Why had I picked so many? Not just because I like them but more because I like how they look with other plants in the garden. Chartreuse brightens any spot where it grows and calls for attention. It goes with almost every other color and so is a good companion plant to most other plants in the garden. I begin today with a post on favorite foliage in chartreuse and will follow with favorite flowers in chartreuse, and then finally, favorite combinations involving chartreuse plants.
By the word 'chartreuse' I mean the color between green and yellow; perhaps lime is the one word that conveys the meaning most accurately.
1. The ubiquitus Sweet potato vine( Ipomea batatas) 'Margarita', is a wonder with its large chartreuse leaves and very rapid, vigorous growth. Not hardy, but easy to find even at the big box stores, and relatively inexpensive. If you dig up the huge tubers you can over winter them and begin again in the spring. Most people seem to use them in planters but they are equally effective used as a ground cover. This sweet potato flowers for some people but so far, not for me.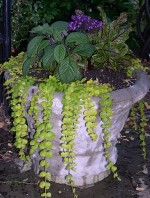 2. Creeping jenny (Lysymachia nummularia 'Aurea') is another marvelous ground cover that can be grown in sun or shade (better chartreuse color in the latter) in the garden, or in a container. My favorite use is in pots, trailing over the edge to the ground (where they root and take off). Creeping jenny is hardy and will come back year after year even though other perennials cover it up in the course of the summer.

3. Coralbells (Heuchera) 'Key Lime Pie' is a tuft of chartreuse beauty. Their palmately veined leaves are nearly evergreen and provide interest from early spring well into the fall. They grow in sun or shade but appreciate afternoon shade in the South. In spring they send up airy stems with tiny bell shaped flowers producing a wonderful, old fashioned look, like the lace on great grandmother's handerchief.

4. Elephant Ear (Colocasia esculenta) 'Elena' will provide architectural interest and be a real "Wow" plant in your garden. These large plants bear very large leaves and give a tropical look to any environment. They like moist, rich, humus soil, bright light but not direct sun, and are hardy to zone 7b. If they are grown in pots they can be over wintered in a cold garage. Alternatively, you can dig up the large bulbs and store them until spring.

5. Golden Japanese Forest Grass (Hakenachloa macra) 'Aureola' will add more than just color to your garden; when a breeze blows the cascading leaves flutter and give movement to the garden scene. It is hardy in zones 6-9 and develops its best color in part shade. Too much sun will scorch the leaves. Rich, moist, soil will make it happy.
6. There are many hostas that have chartreuse foliage but here are three that are especially noteworthy and fairly easy to find. 'Sum and Substance' is a huge one with very large, textured leaves and lavender flowers in late summer. 'Piedmont Gold' is medium sized and bears extra wavy golden green leaves and white flowers in mid summer. 'Gold Edger' is a small hosta with heart-shaped leaves and a mass of lavender flowers in mid-summer. Many other hostas have leaves that combine green, gold, chartreuse,and blue-green in beautiful combinations. There is a hosta in every possible combination of these colors and in many different sizes. Some, like 'Sum and Substance' tolerate sun while others need shade, but there is no doubt that there is a hosta that will meet your needs.
If you think that chartreuse foliage might be something you would like to use in your garden consider plants with chartreuse flowers. Click here for more information on plants with chartreuse flowers.