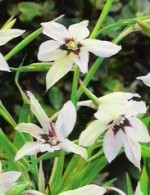 The long slender stems topped with delicate white flowers punctuated with a purple spot belie the rugged origins of the relative of gladiolus. A native of Ethiopia, peacock lily comes from the mountains where is basks in the sun in grassy meadows that are dotted with rocks. It likes fertile soil and nestles right into a border but can be lost unless planted in groups of 10 or more and backed by a dark leafed plant like the canna 'Wyoming' with is dark bronze-red foliage. Peacock lily also does well in containers; place them where their pleasant fragrance can be enjoyed. The flowers are also useful in arrangements and have a long vase life when placed in floral preservative.
Type: Bulb/corm
Bloom: Four to six, long tubed, 2" wide, star-shaped white flowers with purple throats are borne on long slender stems 36" high in mid-summer to fall.
Foliage: Sword like, medium green leaves.
Size: 2-3' H x 1' W
Light: Full sun
Soil: Fertile, well drained.
Fertilizer: Prepare bed using a complete fertilizer.
Hardiness: Zones 8-9
Care: Although the corms may be left in the soil in zones 8 and warmer, they will decline and by the third year will cease to return. To prolong corm-life, dig in fall after flowering but before the first severe frost. Dry in a warm place, remove cormels and debris, and tore in a warm location (60-70 F) until spring.
Pests and Diseases: None of signficance.
Propagation: Division
Companion plants: Spring blooming plants like leopard's band (Doronicum caucasicum) and Virginia bluebells (Mertensia virginica) that will disappear by the time the peacock lily develops and blooms; dark foliaged plants like canna 'Wyoming to provide a backdrop.
Comment: Peacock lilies are very slow to emerge in spring.