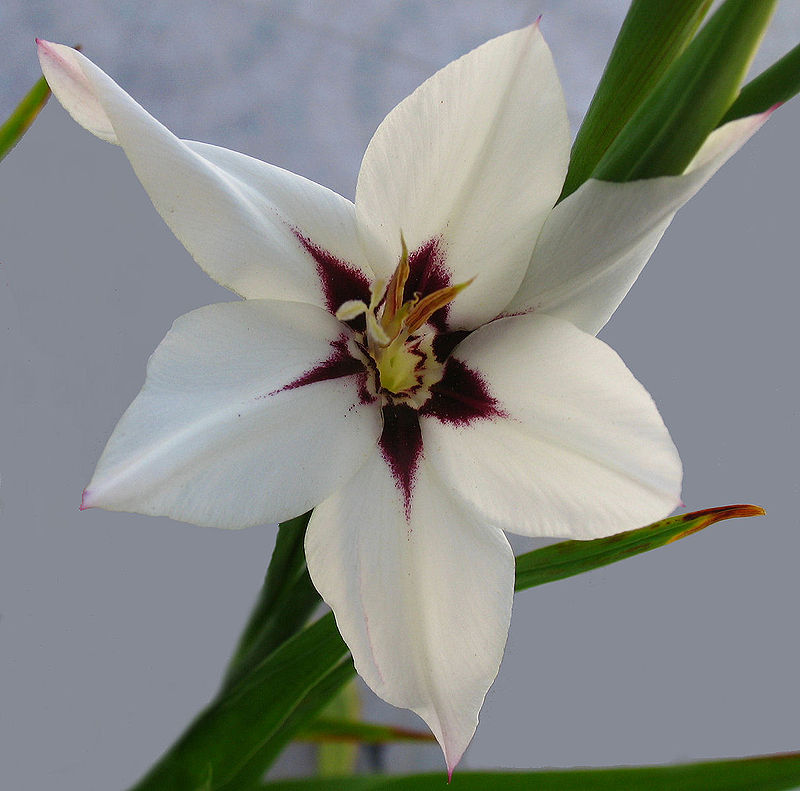 The long slender stems topped with delicate white flowers punctuated with a purple spot belie the rugged origins of this relative of gladiolus. A native of  eastern Africa, peacock lily comes from the mountains where is basks in the sun in grassy meadows that are dotted with rocks.   Its fan of sword-shaped leaves and spikes of white, 1-2″ wide fragrant flowers enhances the garden from spring until fall.   Peackcock lily likes fertile soil and nestles right into a border but can be lost unless planted in groups of 10 or more and backed by a dark leafed plant like the canna 'Wyoming' with is dark bronze-red foliage. Peacock lily also does well in containers; place them where their pleasant fragrance can be enjoyed. The flowers are also useful in arrangements and have a long vase life when placed in floral preservative.
Type: Perennial corm
Height: 2-3′
Bloom Color: White with purple center
Bloom Time: Late summer into fall
Light: Full sun
Soil: Fertile,  consistently moist, well drained.
USDA Hardiness: Zones 7-9
Photo Credit Peter Forster Wikipedia