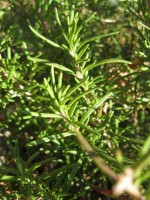 My rosemary bushes grow vigorously, especially the one in California. According to legend, that means that a woman heads the household. Many tales are told about rosemary but the one I like best is about ancient Greek students who wore rosemary garlands when they studied for exams because they believed that it improved memory. The association of rosemary with good memory persists into modern times with the use of rosemary in tussy mussies as a symbol of remembrance.

But there is a lot more to rosemary than interesting stories. Its use in cooking makes it one of the most valuable herbs I grow. I have a potted bush outside my North Carolina kitchen and a big bush outside my California kitchen and I harvest it lavishly when I cook pork or lamb, pairing it with garlic. It is also delicious in stew, bread, butter, olive oil and a large number of vegetable dishes. A sprig of rosemary, with flowers if it is blooming, makes a nice garnish.
And when the stores put out the cute little rosemary topiaries at Christmas I must have two. I decorate them with light strings of tiny colored boxes and use them on the sideboard in my dinning room. I put them in the garden after the holidays but so far none have done well, perhaps because they are so pot bound, or more likely that I water them too much when they are indoors. In Maryland and North Carolina my rosemary plants live through most winters but if temperatures drop below 10 F they die or are badly damaged. High temperatures don't bother them, nor do insects but if they are over watered they will develop root rot. Prostrate forms make good ground covers.
Type: Evergreen shrub.
Bloom: Small pale blue, white, or pink flowers borne in clusters in early spring.
Leaves: Small, needle like, green upper surface, white hairy below; fine texture.
Size: 5-6' H x 4-5' W (outdoors; 'Tuscan Blue' to 12'); prostrate cultivars available.
Light: Full sun.
Soil: Average, with good drainage.
Fertilizer: None unless the soil is very poor and then only occasionally.
Hardiness: Zones 8-10.
Care: Plant where you want it to stay as rosemary does not transplant well. May be shaped into topiary by trimming away no more than 1/3 the branches and foliage.
Pests and Diseases: May develop root rot if over watered.
Propagation: Cuttings (seeds possible but difficult and results in inferior plants)
Outstanding Selections:

R. officinalis alba (white flowers, good bloomer, and the hardiest)


R. officinalis 'Rex' (blue flowers, good bloomer, black-green leaves)


R. officinalis 'Majorca Pink'


R. officinalis var. prostrates (prostrate, deep blue flowers)