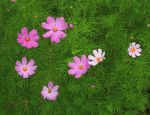 If you have driven down a highway admiring swaths of red, rose, purple¸pink and white disc-shaped flowers growing on wiry stems above finely feather foliage, you will understand when I say "I love tall cosmos." They are so tough and easy to grow I don't understand why more people don't grow them. The seeds are easy to buy in any store, including even The Dollar Tree, and germinate rapidly with little fuss so can be planted out in time for a nice long blooming season. Or, if your climate is very warm in summer and they run out of steam, you can sprinkle the seeds where you want new plants and quickly have a second crop that will give you color through fall. The long stems make them an ideal flowers for arrangements and the large simple flowers give an old fashioned romantic look to any bouquet. Flowers are also good for pressing. If all this is not enough to convince you to give cosmos a try, think butterflies and birds; yup, it will attract birds and butterflies including those beautiful monarchs. I grow these every year from seed and wouldn't be without them.
Type: Annual (perennial in zone 9-10).
Bloom: Red, purple, pink, white and rose flowers, 2-3" across, are borne on thin stems above finely divided foliage from summer to through fall.
Size: 1-7' H x 3' W (depending on variety and soil conditions).
Light: Full sun.
Soil: Lean to average, well drained. Overly fertile soil can result in large plants with few flowers.
Care: Deadhead to encourage rebloom; if plants look "tired" sow seeds in place, pressing the seeds into the soil. Water during times of drought.
Pests and Diseases: None of significance.
Propagation: Seed; may self-seed.
Companion plants: Spider flowers (Cleome hassleriana), zinnias, gomphrena, vinca, flowering tobacco.
Outstanding Selections:
Sonata series such as 'Sonata White': shorter than the species (1 ½'-2 ½ '), well branched and very floriferous.
Sensation series: tall and widely available
Versailles series: tall and especially good for cut flowers.
'Seashell': fluted petals
'Daydream': tall bicolor with pink eye on a white background.