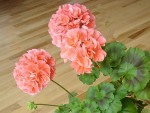 Annuals are those plants that complete their life cycle in one growing season. Most of the plants you see in little six packs are annuals: begonias, petunias, marigolds, red salvia, and impatients. You plant them; they grow, flower and die. Sometimes frost gets them but other times they just poop out. Either way, they flower for only one growing season. If you want them to persist in your garden you have to plant more and that takes time and money. So, why do people grow annuals every year?
There are lots of reasons people go to the trouble of buying and planting annuals year after year. Annuals are very good plants and offer a lot to the gardener for the time and money:
1. Bright color: Annuals come in a large range of bright colors. These bright colors attract insect pollinators, and lead to seed production and ultimately more plants. Annuals live not to decorate you garden but, rather, to reproduce by producing seed. They get one season to do it and they have to make the most of it. The bright colors are natures "helping hand".
2. Long Bloom Period: Most annuals bloom for many weeks, some even for several months. Again, this characteristic goes back to reproduction. Annuals have one season to produce seed and many make the most of it by having a long bloom season. You can prolong the bloom period of some annuals by "deadheading" that is removing the flowers as they fade (and before the seeds mature). The plants respond by producing more flowers in an attempt to complete their life cycle by producing seed.
3. Early Bloom: When you go to your local store to buy plants the annuals are usually in bloom even in their little six packs so you know what kind of a flower you are getting when you buy it.
4. Inexpensive: Annuals are usually cheaper than other kinds of plants. The six packs are a bargain and although the plants are small they grow quickly. More mature annuals will cost more but they are still cheaper than most perennials. Beware, however, some growers are potting up annuals in large pots and selling them at perennial prices. This practice is more prevalent at Farmers' Markets than reputable nurseries or big box stores. If you are not sure, ask the vendor if you are buying an annual or perennial and hope they give you an honest answer.
5. Easy Care: Plant them in the right spot, apply the proper amounts of water and fertilizer, then sit back and enjoy them. There is no dividing or pruning as with many other plants. And if you goof and some annuals die, no problem, they can be easily replaced and will look good in a short time.
6. Versatility: Annuals are great in garden beds and borders, or in containers from pots to window boxes. They can be used as the focus of a garden or as a filler in a perennial bed when the perennials are without flowers. Many are wonderful cut flowers and are beautiful in a vase.
7. Human Fickleness: Let's face it, we all like change; we all like something new. Annuals fill that desire. Every year we can change the garden design, try new annuals, or play with different color combinations. For under $100 you can have a lot of fun with annuals doing something your family and friends will enjoy all summer long too. What a great investment!
Loving annuals does not mean you have to forgo other kinds of plants. Annuals mix well with perennials and shrubs and give quick, long lasting color to beds that would otherwise be shades of green with only touches of other colors. If you are tired of the familiar annuals such as petunias and marigolds, try some of the less common ones like flowering tobacco, globe amaranth, or love-lies-bleeding. They are harder to find but offer a lot of potential for an interesting gardening season.