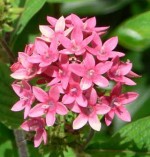 Think 'pink'.  What do you see?  Delicate pastel pink than suggests innocence, femininity, and romance?  Or hot, shocking pink that is full of energy.  Perhaps deep rose pink is more to your liking.  If you don't like pink at all, you are in the minority;  pink is the most popular flower for giving.  Whatever your feelings for pink, there are annuals that can please and add their special touch to the garden scene.
Here are five plants that offer pink flowers in different times of the growing season so you can enjoy pink in your garden from spring until frost.
Larkspur (Consolida ajacis 'Pink Perfection'):
Start out in the early spring before temperatures rise with larkspur.  The tall wands of spurred pink flowers look as pretty in the garden as they do later in dried bouquets.  Seed may be sown in the fall or early spring directly in the garden and thinned to about 12" apart when they emerge.  Plants don't transplant well but may reseed themselves.
Size:  18-24" H.
Soil: moist, well drained.
Light: Full sun.
---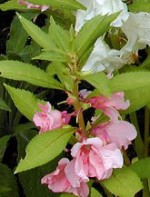 Balsam (Impatiens balsamina):
As spring turns into summer try the old fashioned plant balsam, also know as touch me not for the way the ripe seeds burst from the pods when touched.  Seeds usually come in mixed colors from white to pink, red, and lavender and should be sown directly outdoors or indoors eight weeks before the last frost.  They germinate and grow quickly and should be thinned to about 12" apart.  Extras can be transplanted elsewhere in the garden.  Balsam will reseed itself with seedlings appearing anytime from early summer to early fall.
Size:  12-30".
Soil:  Fertile, moist, well-drained.
Light: Sun to part shade.
---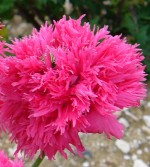 Peony-flowered Poppy (Papaver somniferum): 
The 4" wide flower of the show-stopping poppy bloom for 3-4 weeks in early summer and are followed by unique seed pods that remain until fall.  If you can resist harvesting the pods the plants will reseed themselves so you can enjoy them year after year.  Grow them with tall strong plants than can help them support those gorgeous heavy blooms.
Size:  2-4' H.
Soil: Low in nitrogen, moist but well drained.
Light:  Full sun
---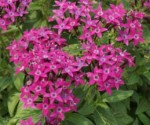 Starflower (Pentas lanceolata):
Once the summer temperatures start to sizzle, starflower comes into its own and will bloom until frost.  It grows and flowers best in the heat and keeps it self tidy.  If it gets too large, just cut it back and rest assured that it will be blooming again soon.  Butterflies love it, especially monarchs, painted ladies, and swallowtails.
Size: 15-18" H.
Soil: Moderately fertile, moist but well-drained.
Light:  Full sun.
---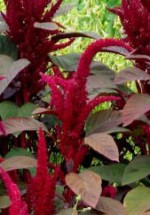 Burgundy Amaranth (Amaranthus hypochondriacus):
For deep pink color in the fall try this amaranth, a relative of love-lies-bleeding that has green seed heads that turn burgundy in the fall.  The plant is large and needs space but is very unusual and edible.
Size:  4-8'.
Soil:  Moderately fertile, moist but well-drained.
Light:  Full sun
---
Five different flowers, five different pinks, five different blooming seasons; with these annuals you can have pink in your garden from early spring until fall.  Whether you want romance, playfulness, or energy in your garden, pink can bring it and you can "be in the pink."