As the warm temperatures and sunny skies of summer bring my borders into full bloom I am thinking ahead to late summer and early fall when my borders will begin to decline as both annuals and perennials have spent their energies on their beautiful blooms and prepare for winter. If I plant some seeds of annuals in early July I can fill in gradually as plants poop out and maintain a full, bountiful look until I want embrace the fall look with mums and pansies.Here are my picks. Since time is probably of the essence I am only including plants the seeds of which are available in local garden centers, germinate quickly, and are easy to grow. I use 6-packs that I have saved from my spring buying and usually plant a couple of large seeds or a tiny sprinkling of fine seeds in each cell.

Sweet Alyssum (Lobularia maritime): I love this plant in the spring but it can't take the heat here in zone 7 of the North Carolina Piedmont and poops out during the spring. It will often reseed itself but not always so I like to have a supply of them to fill in for the portulaca that fades by late August in my garden. The sweet alyssum comes in white, purple, or pink.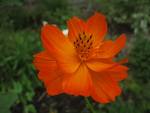 Cosmos (Cosmos sulpureus): These are the shorter cosmos (about 2') that come in yellow, gold and orange. They can be grown for early bloom but will decline by mid summer. If started in July they will provide bloom well into fall.

Cockscomb (Celosia argentea var. cristata) There are four groups but the ones that are easiest to find in seed packs at local garden centers are those that have feathery plumose spike flowers and those that have colored brain-like flowers. I always grow the plumose kind and find that they often reseed. They come in yellow, gold, red, and orange so they fit in well with fall coloration.

Zinnia (Zinnia elegans): There are many different zinnias but you are most likely to find the seeds for tall ones with either large or small flowers. They come in red, pink, yellow, orange, white, lavender, and green. There are short zinnias (10") but I have not had much luck finding the seed in stores.

Marigold (Tagetes spp): There are many different kinds of marigolds and even a plant snob can find one that would be pleasing in a late summer, early fall garden. Avoid putting them with red salvia and they will take on a whole new life. Plants may be tall or short, orange, yellow, or a combination of orange with red accents. These are wonderful harbingers of fall.
Start seeds of these plants and you will have an easy and cheap way to extend the life of your garden. The yellow, orange, and purple colors of the flowers will bring colors that look toward fall and provide a good transition from summer.