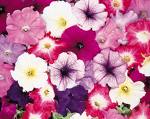 When I go to buy petunias I am tempted to buy the inexpensive six packs but remembering my bad experiences with such petunias in the past I stop. Rain ruined the flowers of some, the high heat and humidity caused other to become leggy and stop blooming. All had to be deadheaded. Cutting them back somewhat revitalized them but not enough to make it worthwhile. This year I decided to try the more expensive kinds, the Waves, Supertina, Surfina, and Cascadia, whatever I could find. They are all weather tolerant, do not need deadheading, but will need fertilizer on a regular basis. 
Wave Petunias come in five series; they will all need to be cut back in mid summer to be revitalized.
The Wave: Spreads 3-4 feet and stands 4"-6" tall; good in a garden bed or as a ground cover. Comes in 6 colors.
The Easy Wave: Has a mounding growth habit, and grows to 3' wide and 6"-12" tall; good in baskets and containers. Comes in 13 colors.
The Tidal Wave: Grows 1 1/2' tall and 2 1/2-5' wide so it can be used as a low hedge as well as in large containers. Comes in 4 colors.
The Shock Wave: Grows 7"-10" high and 2 1/2'-3' wide. The flowers are smaller than the other Wave flowers. Good for the small spaces in the garden, small baskets and containers. Comes in 5 colors.

The Double Wave: Grows 4"-6" tall and 1 1/2'-2' wide. Flowers are double and frilly and the plant is more compact that other Waves petunias. Good in containers and hanging baskets. Comes in 8 colors.
Supertunias Grow about 1′ tall and 1 1/2'-3' wide. Plants are compact and free flowering. Terrific in hanging baskets. They are propagated from cuttings and do not produce seed. Come in a large variety (11) of colors and color combinations . Supertunias also come in mini versions featuring smaller flowers.
Surfinias Grow 6"-12" tall and 24"-40" wide. The plants are mounding or trailing in habit with flowers in a variety of sizes from 1"-3" and are terrific in a hanging basket. They are less likely to get leggy during heat periods than other petunias and come in a variety (8) of colors/color combinations.
Cascadias Grow 12" tall x 18" wide. Cascade to 4'. The small flowers come in a large variety (13) of colors/color combinations and are outstanding in a hanging basket.
When choosing your petunias consider the following:
*How are you going to use the petunias, in the garden bed or in a container?
*What colors will work with your color scheme; not all kinds of petunias come in all colors.
*What size and fullness of flower do you prefer? Some are small others are large; most are single but some are double.
*Where are you going to buy them? They are not equally available. The Wave is the most readily available and depending on where you live, some may not be available at all.
*How much are you willing to pay for each plant? The prices for various petunias vary considerably.
*How much time are you willing to spend caring for your petunias? They all will need regular fertilizing to stay looking good and the Waves may require being cut back in mid summer to get a second flush of growth and flowers.
*Please note: all petunias need a considerable amount of sun. There is probably no petunia that will satisfy all your dreams, needs, and wants, so you will have to make trade offs. But isn't that what life is all about? Frankly, color is what does it for me. And, there is no substitute for going around to local garden centers and looking at the various plant offerings. I hope you find just the right petunia for your garden.