Post Date Sept 16 2014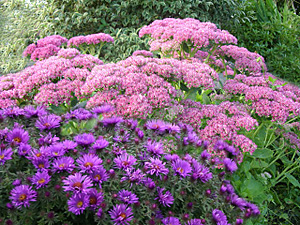 The bright purple flowers of aster "Purple Dome' make an attractive companion for sedum 'Autumn Joy' in the fall as it changes from deep pink to coppery brown. 'Autumm Joy's' solid heads of small fuzzy flowers complement the delicate daisy-like flowers of Aster 'Purple Dome'. The smooth fleshy leaves of the sedum contrast with the fine texture of the aster foliage. Both plants have a rounded, dense, compact form and do well in sun or part shade, and average, well-drained soil.

Aster 'Purple Dome'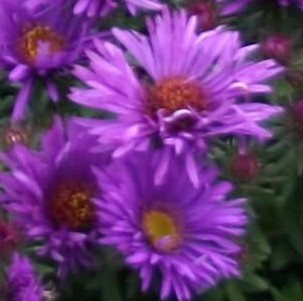 'Purple Dome' is the first true dwarf New England aster (Aster novae-angliae). In fall the plants are completely covered with bright purple flowers. The plants are compact and under 24" high so don't need to be staked. It is mildew resistant and attracts butterflies.
Bloom Time: Fall
Size: 18-24" H x 3' W
Hardiness: Zones 4-8

Sedum 'Autumn Joy'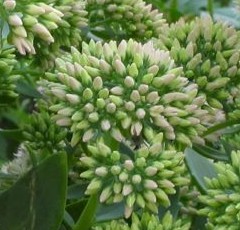 This sedum is one of the very best garden plants, offering beauty from spring until fall. As the flower heads begin to form they are white and resemble heads of cauliflower. Over the course of the summer they turn green, pink, and rose. In the fall they take on a coppery color ending in brown as they dry. Some gardeners leave these brown dried flower heads in the garden all winter where they catch the snow and give winter interest to the garden.
Bloom Time: summer into fall
Size: 12-24" H x 24" W
Hardiness: Zones 3-10