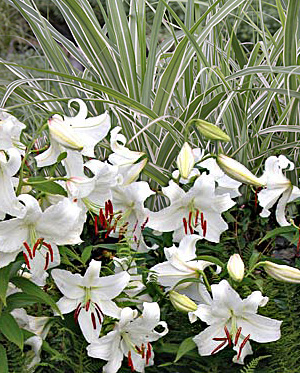 This grass and lily combination combines a strong echo of color and strong contrast of form, size and texture. Japanese silver grass 'Cosmopolitan' is a tall grass with white variegation that echoes the white flowers of Oriental lily 'Casablanca. The large mound of grass and the fine texture of its slender blades contrast with the much shorter, coarser texture of Oriental lily 'Casablanca' and the trumpet form of its flowers. Japanese silver grass provides interest even after the lily has faded and on into fall and winter. Its reddish tassels appear in fall turning fawn as they mature. The seed heads persist into winter along with the foliage that turns tan after the first frost. Grow in medium moist, well-drained soil and full sun with the lily roots in the shade of the grass.

Oriental Lily (Lilium) 'Casablanca'
This popular lily produces pure white fragrant flowers that are eight to ten inches wide. Each flower has recurved petals and contrasting brown anthers that add to its appeal. Flowers are outstanding in the vase as well as in the garden.
Bloom Time: Mid-summer
Size: 3-4' H x 8-12" W
Hardiness: Zones 5-8

Japanese Silver Grass (Miscanthus sinensis) 'Cosmopolitan'

This cultivar produces blades that are 1.5 inches wide and have wide creamy white margins along the edges. The blades arch gracefully producing an attractive mound that does not need staking. The tassels are produced two to three feet above the foliage and add height and texture to the garden.
Bloom Time: Mid- to late fall
Size: 6-7' (10' when in bloom) H x 3-5' W
Hardiness: Zones 6-9.