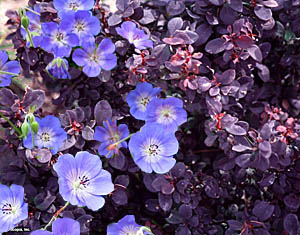 Cranesbill 'Rozanne' and barberry 'Concord' are outstanding plants for the garden and when put together they make a fabulous combination that lasts for the whole growing season. In early spring barberry 'Concord' puts out new clusters of deep burgundy red foliage followed by small yellow flowers that are soon hidden underneath the new growth of leaves. Soon, cranesbill 'Rozanne' begins to produce its striking purple-blue flowers continues to bloom until fall. Barberry 'Concord' , not to be out done, turns bright red in the fall before dropping its leaves for winter. Both plants like full sun to part shade, and moist, well-drained soil.

Cranesbill (Geranium) ' Rozanne'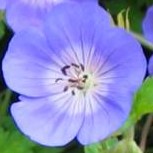 Chosen as the Perennial Plant of the Year for 2008, Cranesbill 'Rozanne' is noted for its very long bloom season. The cupshaped, purple-blue flowers with small white centers, are about 2½ inches wide and are produced loosely on attractive mounds. The leaves are deeply lobed and may have a bronze tinge in the fall. In hot climates flowering may slow down or foliage may become ratty but the plant can be rejuvenated by cutting or shearing it back.
Bloom Time: Early summer to fall
Size: 12-18"H x 12-24" W
Hardiness: Zones 5-8

Barberry (Berberis thunbergii) 'Concorde'

This outstanding cultivar is known for its small size and compact growth habit and is one of the best purple leaved barberries available. It forms small mounds of fine textured foliage that retains its color all summer. The best color is developed when the shrub is grown in full sun. It can be pruned any time to control size and shape.
Bloom Time: Spring but flowers insignificant; foliage provides color from spring to fall
Size: 18-24 H x 24-36 W
Hardiness: Zones 4-8