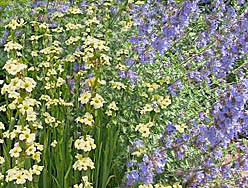 Soft blue and yellow make this duo a dreamy combination in the early summer border. Nepeta 'Walker's Low' produces an abundance of small lavender-blue flowers carried in loose whorls atop gray green foliage while Sisyrinchium striatum provides spikes of pale yellow cup shaped flowers with golden centers from clumps of gray-green sword shaped leaves. Nepeta 'Walker's Low' will continue to add color over a long bloom time if deadheaded or sheared back. Both plants grow well in full sun, medium moist, well-drained soil but tolerate some drought once established.

Catmint (Nepeta racemosa) 'Walker's Low'

Like other members of the mint family, Nepeta 'Walkers Low' has aromatic foliage, square stems and tubular two-lipped flowers. It forms large clumps that are attractive whether the plant if flowering or not. Nepeta 'Walker's Low' does not do well in high heat and humidity and needs some afternoon shade in the deep South.
Bloom Time: Late spring to early summer with second bloom in late summer if sheared
Size: 2-3' H x 2.5-3' W
Hardiness: Zones 4-8

Sisyrinchium striatum

A native of Argentina and Chile where it grows in meadows and open woods, Sisyrinchium striatum is a clump forming perennial with iris-like leaves. The flowers are ¾" wide and have golden centers and six tepals with faint purple stripes on the backside. Leaves may turn yellow after flowering and the whole plant can be cut back to six inches.
Bloom Time: Late spring to early summer
Size: 1-2' H x 1-2' W
Hardiness: Zones 5-9