There are over 300 species of hummingbirds, all in the New World. Most are found in the topics and subtropics of Brazil and Equador but sixteen species are found in North America with the Southwest United States getting the largest number. The eastern half of the country has only one species, the rubythroated hummingbird. Most hummingbirds are migratory but a few places in the West and the tip of Florida have year-round humingbird residents.
Hummingbirds are unique in regard to size, flight, behavior and their ability to conserve energy at night by going into a state of torpor. They range in size from 2.25 inches (bee humingbird) to 8.5 inches (giant hummingbird) and are adapted for feeding on the nectar of flowers. Their wings allow then to hover and fly backward as well as forward and they have specialized tongues and long thin bills that facilitate sipping their favorite food. Although hummingbirds feed primarily on nectar they also eat spiders and insects. Their legs are short and they have difficulty walking or hopping so spend their non-flying time perching. The feathers of hummingbirds are iridescent and the throat of male birds is usually brightly colored.
All plants in the list below provide nectar and zinnias also provide a side of small arthropods.

Columbine (Aquilegia spp and cultivars)

Blooming in spring, columbines are herbaceous perennials with unique flowers featuring spurs. It is as much at home in a cottage garden as in a woodland garden. Large species can provide cover for small sparrows and thrushes.
Size: 1-3′ H
Site: Prefers part shade and fertile, moist, well-drained soil but is drought resistant.
Hardiness: Zones 3-9

Crocosmia (Crocosmia cultivars)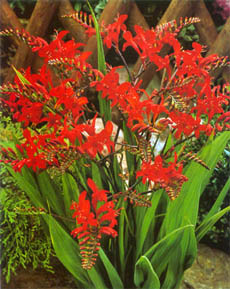 This herbaceous perennial quickly forms a clump of sword shaped leaves and produces arching spays of flowers in summer in shades of yellow, orange, or red. 'Lucifer' is an outstanding cultivar and easily found at nurseries and big box stores as corms (bulb-like structures) or potted plants.
Size: To 5′
Site: Full sun to part shade; moist, well-drained soil
Hardiness: Zones 6-9

 Honeysuckle (Lonicera sempervirens)

A native of southeastern United States, this vigorous, twinning, deciduous vine has large red trumpet shaped flowers in late spring. The berries that follow the fruit attract quail, purple finch, goldfinch, hermit thrush, and American robin. Flowers appear on previous year's growth so prune after flowering if needed.
Size: To 20′
Site: Full sun but tolerates some shade at the expense of flowers; medium moist, well-drained soil.
Hardiness: Zones 4-9

Bee Balm (Monarda didyma)

Although hummingbirds will visit beebalm flowers of all colors, red ones are the most attractive to them. The tubular flowers are produced in terminal clusters and rest on red-tinged bracts over a long bloom period in summer. Native to eastern states beebalm may suffer from mildew but resistant cultivars are available.
Size: 2-4′ H
Site: Full sun to part shade; medium to wet soil
Hardiness: Zones 4-9

Cape fushsia (Phygelius capensis)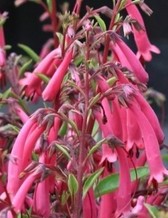 For a long bloom period it would be hard to beat the six months that this semi-evergreen shrub may be in bloom. The flowers are red, orange, pink, or yellow and are produced on bushy, branching plants that provide good cover for many birds including native sparrows and juncos. Orioles may sip the nectar.
Size: 3-4′ H
Site: Full sun; medium moist, well-drained soil
Hardiness: Zones 8-9

Zinnia (Zinnia elegans)

These annuals are garden favorites and bloom all summer into fall. Choose red flowered ones to attract hummingbirds and they will feast on both the nectar and the insects and spiders they find there. Flycatchers, orioles, and jays may visit to catch butterflies and other insects that are around the flowers, and native sparrows, pine siskins, goldfinches and juncos will enjoy the zinnia seeds in the fall.
Size: 1-3′ H depending on variety
Site: Full sun; fertile, medium moist, well-drained soil
Hardiness: Annual