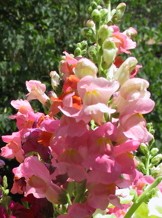 Snapdragons are tender perennials usually grown as annual and are native to Europe, North Africa and the US. They are members of the plantago family, Plantaginaceae, that also includes foxgloves, turtleheads, and Veronicas. The leaves are lance-shaped and green or bronze purple. The flowers are tubular, two-lipped, and are carried on upright spikes. They are fragrant and may be white, pink, mauve, yellow or bicolored. Snapdragons are cool weather plants and grow well in northern areas where summers are cool but will not grow in the heat of Southern summers. They do well there, however, in fall and spring, and may over-winter. Dwarf, medium, and tall varieties are available. Bumblebees enjoy the nectar and as a bonus, many songbirds enjoy the copious amount of seed the plants produce.
Type: Cool weather perennial usually grown as annual.
Size: Tall: 3-5'; Medium: 18-30"; Short: 6-18".
Light: Full sun to part shade.
Soil: Fertile, moist, well-drained.
Beneficial Insects Attracted: Bumblebees