A garden a flutter with butterflies sipping nectar from the flowers on a sunny day is a beautiful sight. A visit of a hummingbird to the garden is a treat. So, why not try to have both? It can be easily done by using plants that attract both. Yes, there are numerous plants that are irresistible to butterflies and will attract hummers as well with their red, orange, or purple color.
Here are six herbaceous plants with purple flowers that will attract both hummingbirds and butterflies. The first three plants have spikes of flowers with tubular flowers.

Anise Hyssop (Agastache foeniculum)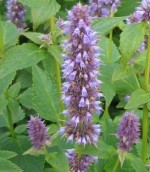 The anise scented leaves and edible flowers make this native wildflower a good candidate for the herb garden. It readily reseeds and may bloom in the first season. Although it is a butterfly and hummingbird magnet, deer don't like it.
Height:
Bloom Time:
Light:
Soil:
Average, moist to dry, well-drained
Hardiness:

Blazing Star (Liatris spicata)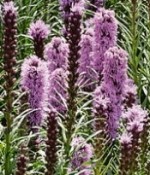 A native of North American, blazing star has straight spikes of fuzzy rosy-purple flowers that provide an architectural element in the garden. The basal leaves are long and thin and make an attractive mound as they emerge in spring. Swallowtails especially like the nectar. Other species of liatris are also attractive to butterflies and hummers but are more difficult to find.
Height:
Bloom Time:
Light:
Soil:
Hardiness:

Salvia (cultivars of S. nemorosa and S. x sylvestris)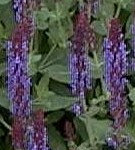 The mounds of blue spikes are an attractive sight as the days get longer in spring. Faithful deadheading will prolong the bloom into summer.
Height:
Bloom Time:
Light:
Soil:
Hardiness:
Three other herbaceous plants with purple flowers that are attractive to both butterflies and hummingbirds have clusters of tubular flowers.

Wild Bergamot (Monarda fistulosa)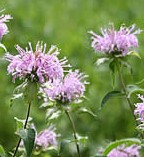 Three inch tight heads are carried on wiry stems above hairy narrow, pale green leaves. The stems grow out of the previous flower head creating and interesting effect. A native of meadows, prairies, old fields, clearings, and roadsides, this species of Monarda is more mildew resistant and drought tolerant than its relative, beebalm (Monarda didyma)
Height:
Bloom Time:
Light:
Soil:
Hardiness:

Meadow Phlox (Phlox maculate)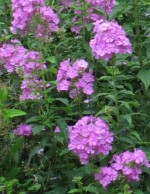 A native of moist woods and damp meadows, meadow phlox has more conical heads, blooms early, and is more disease resistant than the more familiar garden phlox, P. paniculata.
Height:
Bloom Time:
Light:
Soil:
Hardiness:

Brazilian Vervain (Verbena bonariensis)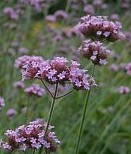 This is a great see-through plant that can be put at the front of the border where you can see the action up close. The flowers are small and are borne on tall wiry stems. It may get powdery mildew but seems to carry on without reduced vigor.
Height:
Bloom Time:
Light:
Soil:
Hardiness:
All of these plants are easy to grow and can be found in local nurseries or on-line supplies. They are generally tall, bloom in summer, and like sun and well drained soil. Those with spikes will give vertical interest to borders while those with clusters of flowers provide contrast. Several are wildflowers and therefore are more disease resistant than cultivated forms so don't need spraying. This is a big plus when you want to attract hummers and butterflies, and helps keep the beneficial insects insects safe.