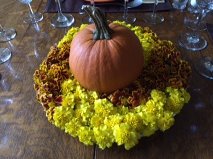 While preparing for and Indian style dinner party I wandered in the garden looking for flowers and saw my marigold plants covered with flowers. I remember well the beautiful floral designs I saw in India composed of marigolds or the petals of marigolds and immediately decided to try and create a simple version as a table arrangement. The golden yellow and orange-maroon blossoms were perfect for fall and the orange tableware on brown mats. I used a small pumpkin in the center.
Materials:
About 130 small flowered marigold blooms, using at least two different kinds/colors; number will depend on the size of the dish and size of the flower.
Garden clippers for cutting flowers
Flat dish with no rim, in a size that is in proportion to the table ( I used a 14" dish)
Small pumpkin or other focal point (optional). My pumpkin was about 10 inch in diameter.
Directions:
1. Cut marigold flowers leaving a stem no longer than two inches long including swollen base.
Place a small pumpkin or other focal point in the center if desired. The pumpkin centered the arrangement and gave height but a candle, votive or other three.
2. Dimensional object would serve the same purpose.
3. Arrange the flowers in a design of your choice (I chose a pinwheel design) tucking the stems in under other flowers. Bring the flowers to the edge of the dish.
4. The flowers will remain fresh looking for at least a day but could be spritzed and/or covered with plastic wrap and refrigerated to preserve longer.
5. In addition to the table centerpiece, I made a small arrangement for the powder room. In this case I mounded yellow marigolds in the center surrounded by the orange-maroon ones.