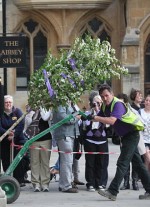 Three days before the royal wedding trucks pulled up to Westminster Abbey and men began unloading living trees to decorate the abbey. Wow! What does it mean? The florist directing the activities is Shane Connolly, known author of several books including ones on wedding florals, table decorations, and the language of flowers. He is known for his sustainable approach to floristry and his use of growing plants rather than cut ones.The eight 20' trees that were brought into the abbey, five English field maple and two hornbeams were all in large pots. The trees that are 15 years old and weighted ½ ton each, will line the aisle as a living avenue through which guests walk as they go to their seats. The trees, along with seasonal shrubs and flowers such as azaleas, rhododendrons, wisteria, euphorbia, beech, and lilac will create the look of a lavish English garden. English gardens, or course, aren't cheap and this one is rumored to have cost about $80,000. The floral display will be left in the abbey until May 6 so it can be viewed by the public and then many of the living plants will be replanted at Highgrove, the residence of William's father, Prince Charles. Other flowers and plants will probably be given to charities.
Shane Connolly was the florist that designed the wedding bouquet of Camilla Parker Bowles when she married Prince Charles, William's father. Royal watchers speculate that Camilla's bouquet followed the "language of flowers" and that Kate's bouquet may do the same. Tradition dictates that Kate's bouquet be made of white flowers but she may decide to include some color. Her bouquet is expected to include a sprig of myrtle from Queen Victoria's garden at Osborne house on the Isle of Wright as English royal bouquets have done since the time of Queen Victoria.
Flowers in her hair? No one knows or is saying but the choice is flowers or tiara. Hum…is that an easy choice? We will all find out soon.
If you would like more information about past royal wedding bouquets see Royal Wedding Bouquets to get photos and descriptions of them.