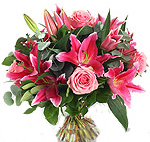 A bouquet of flowers on Valentines Day is a wonderful way to please the special person in your life but flowers at Valentines Day are expensive. I offer these tips on buying to help you get the best quality and most beautiful arrangement for your money. With very little effort you can save dollars and buy the best bouquet ever.
Five Money Saving Tips:
1. Order at least a week ahead. You have the best chance of getting the prettiest and best flowers the shop has to offer, the designers will be full of energy and creativity, and the time for delivery can be scheduled with better accuracy. The worst thing you can do is to wait until Valentine's Day* or the day before. The flowers you get will probably be the ones that are the least desirable and arranged when the creative energy of the designers is gone. You may not be able to pick a delivery time at all.
2. Consider buying a bouquet of flowers other than roses because the roses that you buy in mid February are often very expensive and of inferior quality. Demand is very high and growers as well as florists do everything they can to have a large supply of roses available at the most profitable price for them. This may mean that the growers cut the roses early or that growers and florists store the roses for an extended period. Roses cut too early will never open while roses stored too long will last only a short time once they are out of the cooler.
3. Consider other options. For example, tulips are in season and a bouquet of 24 in a glass vase makes a lovely display. Gerber daisies and lilies (like 'Stargazers'), are also available and beautiful at this time.
4. Go on the Internet and check out the websites of your local florists. Compare arrangements and prices. You will be amazed at the variety of arrangements that are available at various price points.
5. If you are going to order flowers for someone in a distant town DON'T order them through your local florist. Find a florist in that town on the Internet and call or order on line. When you order through your local florist they use a wire service to locate a florist in the distant town and both the local florist and the wire service take a cut; the arrangement you order is of substantially less value than the price you paid for it.
*N.B. When Valentine's Day is on a Sunday (like in 2010) beware that many florists are not open so plan accordingly.